The Delta State University National Alumni Association held its annual Bolivar County Alumni Chapter Crawfish Boil May 3 in front of Walter Sillers Coliseum.
This year's event featured Crustaceans Crawfish, Judson Brown & Cliff Byrd Championship BBQ and pizza for children 12 and under thanks to Domino's. Entertainment for the night was provided Southern Reality & Fusion Gymnastics through Delta State University Continuing Education.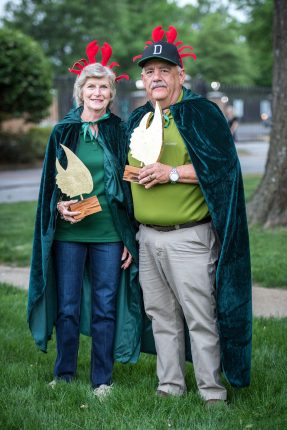 Jeffrey Farris director of Alumni Affairs, and Gary Crews president of the Bolivar County Chapter spoke to the crowd of over 350 on the importance of a lifelong alumni experience, recognized volunteers for 2018, event entertainment, and 2018 event sponsors. The Bolivar County chapter president Crews presented Dr. Rose Strahan, queen of the crawfish boil, and Bill Quinton '94, king of the crawfish boil. Dr. Rose Strahan, of Cleveland, is the 2010 Gladys Castle "Friend of Delta State" Service Award recipient. Strahan served as chair of the Mathematics Department for 1978 to 2009. She is an active member of the Dedicated Statesmen Association. Bill Quinton '94, of Cleveland, is the Director of the Bolivar County Emergency Management Agency. He is a past Bolivar County Alumni President, Past National Alumni Association Board Member, Life Member of the Delta State University Alumni Association and avid Delta State Athletics supporter.
The chapter also held a silent auction with all proceeds going to the Liza Vaughn Memorial Scholarship. The scholarship was named for former assistant alumni director Liza Vaughn '95 who passed away in April of 2012. It was established for incoming Delta State students from Bolivar County. Three $1000 scholarships were given to students who will attend Delta State this Fall.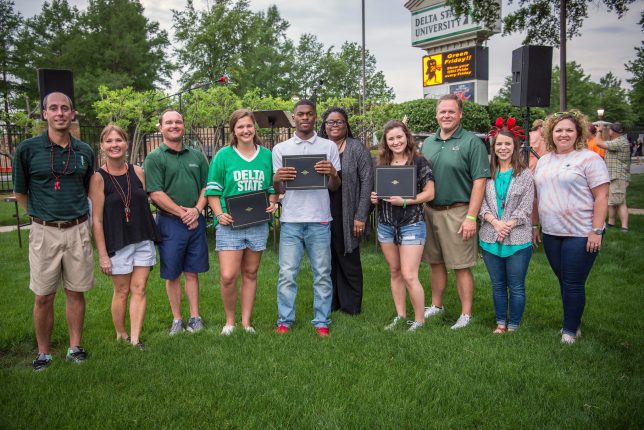 Cameron Leslie – Ray Brooks High School
Kayleigh Lindsey – Bayou Academy
Anna Pierce Hackney – Cleveland Central High School
The event would not have been possible without the help of many volunteers and sponsors. This year's Bolivar County officers were Gary Crews, president; Shane Howell, vice president; and Tricia Killebrew, secretary/treasurer. The Student Alumni Association also helped volunteer with the Kids Zone.
This year's event sponsors were:
National Alumni Association Corporate Sponsors:
Statesmen Level:
Bolivar Medical Center
Cardiovascular Solutions of Central Mississippi – Dr. Fakorede, MD
Okra Level:
Air Evac Lifeteam
Patrick Davis State Farm,
Renasant Bank
Bolivar County Chapter Sponsors:
Okra Level:
DSU University Advancement of External Relations
Boyle Lumber
Crustaceans Crawfish
Delta Radio
Dominos
Monsanto
Needle Specialty Products
Radio Cleveland, Inc.
Green Level:
Lenny's Subs
Backdraft Inc.
Cleveland State Bank
Denton's Dairy
Guaranty Bank
McNeer Mini Storage
Mississippi Grounds
Right at Home/ Delta Maids
Robinson Electric
The Image Specialist
White Level:
A la Carte
Ace Hardware
Advance Physical Therapy
Anytime Fitness/ Studio S
Byrd Service Station
Cleveland Rentall Outdoors
Eley Barkley, P.A.
Go Knightrider, LLC
Joe Reed and Company Inc
Meador & Crump, Attorneys at Law
Mid South Water, LLC
Peters Pottery
Planters Bank
Rogers Entomological Services, Inc
Shelter Insurance
Shipp Family Eyecare, PLLC
South Street Pharmacy
The Bolivar Commerical
The Childrens Dental Clinic
Williams Equipment & Supply Company
Gaines Management Group
The American Legion MS Delta Post No.1776
To make a donation to the Liza Vaughn Memorial Scholarship, visit https://www.deltastategiving.org/alumniassociation/lizavaughnmemorialscholarshipfund or call 662-846-4660.
To view photos from the 2018 Bolivar Country Crawfish Boil, visit https://www.flickr.com/photos/dsualumni/albums/72157666931077117.
To stay up to date on the Alumni Association's activities, follow these social media sites: Facebook (Statesmen Graduates), Twitter (@DSU_Alumni), LinkedIn (DSU alumni), Instagram (dsualumni) and You Tube (dsualumni1). Save the date for this year's Pig Pickin' (Sept. 21st – 22nd) and Homecoming (Nov. 9th & 10th).