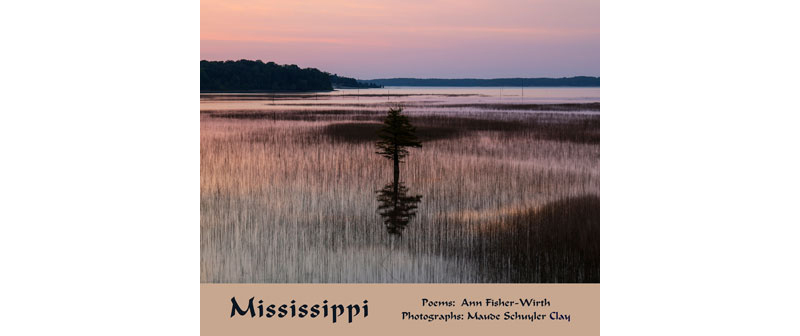 Delta State University's Honors Program will host its inaugural Honors Forum Visiting Lecture Series event Feb. 19 at 7 p.m. featuring author Ann Fisher-Wirth and photographer Maude Schuyler Clay.
The new university-wide series will focus on cultural, social and academic issues of the university and community.
"Mississippi: An Evening with Ann Fisher-Worth and Maude Schuyler Clay" will take place in Jobe Auditorium and is free and open to the public. A reception will follow the event.
Wirth and Clay will be presenting on their newly-released collaboration, "Mississippi," a collection of 47 poems and 47 color photographs that explore the history, culture and ecology of the state.
"The Honors Program is delighted to welcome poet Ann Fisher-Wirth and photographer Maude Schuyler Clay for our first Honors Forum event, an evening discussion of their important work," said Mike Smith, Honors Program director and associate professor of English at Delta State. "The Honors Forum seeks to bring to campus important voices of our city, region, nation and world, fostering a culture of openness and engagement, and creating opportunities for dialogue between our students and the communities we call home. All events, of course, are free and open to the public."
As described by the authors, the state of Mississippi suffers from severe environmental degradation that cannot be separated from its history of poverty and racial oppression. Yet, the state also possesses great natural beauty and a rich and complex culture, one interwoven from the many voices that have made up its identity.
"Mississippi" explores both this degradation and this beauty. The poems are explorations of voice in its Mississippi plenitude and variety, honoring the voices, no matter whose they are, whether white or African American, and exploring the rich orality of Mississippi culture. With one exception, the beautiful, haunting photographs do not depict people, but, rather, swamps, fields, trees, lakes, empty chairs and dilapidated buildings. They work with the poems to offer the spirit of place.
Learn more about the book at http://wingspress.com/book.cfm?book_ID=230.
For additional information on DSU Honors Program initiatives, or the inaugural Honors Forum Visiting Lecture Series, contact Smith at mcsmith@deltastate.edu.