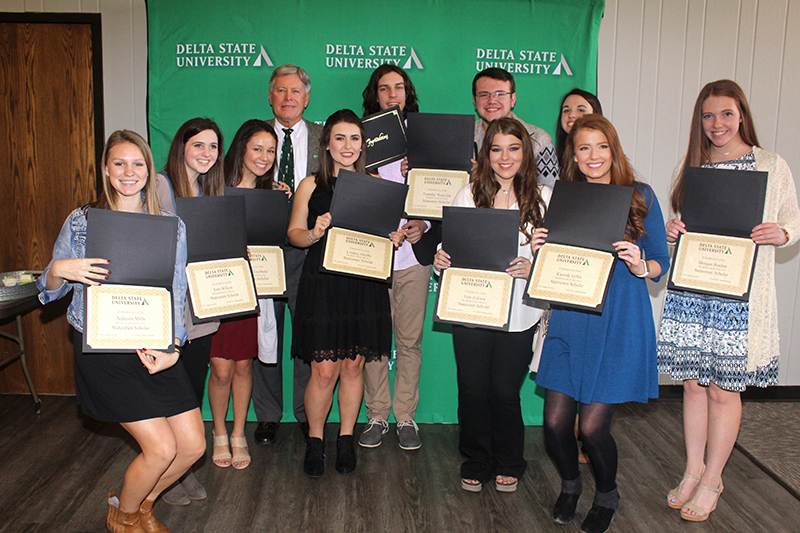 Delta State President William N. LaForge joined the new class of Statesmen Scholars at the culmination of Statesmen Scholarship Day on Jan. 29.
Delta State University's Office of Admissions recently announced the distinguished class of 2018 Statesmen Scholars after hosting the second annual Statesmen Scholarship Day Jan. 29 on campus.
Students across the Mississippi and the region were selected to attend this prestigious event based on ACT scores, high school GPA, academic leadership and service demonstration.
Securing one of the four-year "full ride" scholarships is no easy task, as over 100 invitations were sent to prospective DSU students, and the competition was at a high level for a high reward.
Ten worthy students were selected for the Statesmen Scholarship, which covers tuition, room and board, fees, and up to $300 for books.
Participants faced two sets of interviews, one focusing on student life and one focusing on academics. Adding excitement to the event, recipients of the scholarships were announced at a reception at the end of the day.
Admissions recruiter, Rebekah Arant, said this was a unique opportunity for future Delta State Students.
"It's not hard to recruit high achieving students when they have a chance at a full ride scholarship," said Arant. "We are thrilled with this year class of scholars, and we're very excited to welcome them to the Delta State family."
This year's scholars are:


For more information on scholarships or the application process at Delta State, visit www.deltastate.edu/admissions, or contact 662-846-4020.
SaveSave