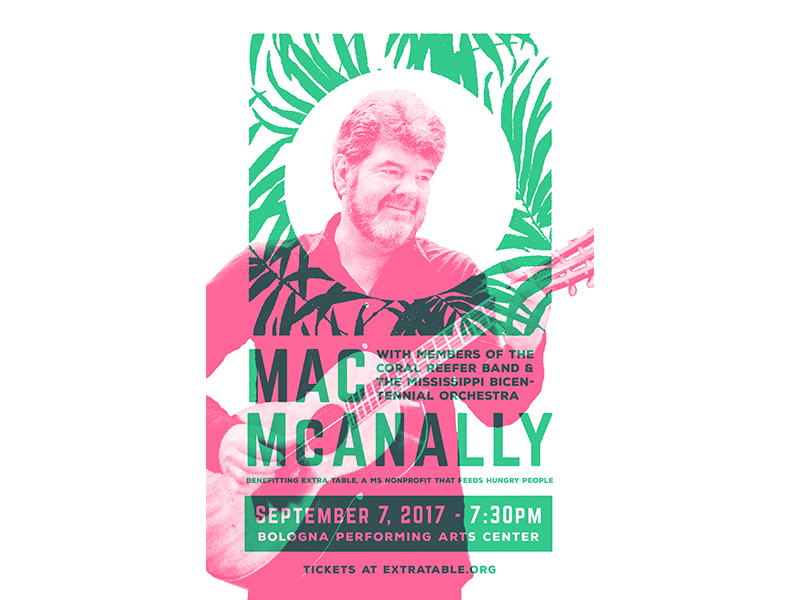 On Thursday, Sept. 7 at 7:30 p.m., the statewide non-profit organization Extra Table will host country music star Mac McAnally along with the Mississippi Bicentennial Orchestra and members of the Coral Reefer Band in a benefit concert at the Bologna Performing Arts Center at Delta State.
Now, in his fifth benefit concert to help fight hunger, McAnally joins Extra Table to help get healthy food to the hungry across the Mississippi Delta. All profits from the show will be used to purchase healthy food for area feeding agencies.
Extra Table, founded by chef, author and restaurateur Robert St. John, is a non-profit organization committed to ending hunger in Mississippi by providing food pantries and soup kitchens with the nutritious food they need to feed Mississippi's hungry.
Through a partnership with Sysco, the nation's largest food distributor, Extra Table uses 100 percent of donations given for food to purchase healthy food bundles from Sysco, which are delivered free of charge on a monthly basis to 27 food pantries and soup kitchens that Extra Table is partnered with throughout the state.
In addition to the profits from the concert, McAnally is also announcing a special album release of biggest hits and favorite songs set to orchestration, with a portion of proceeds also benefitting Extra Table.
McAnally's peers have voted him County Music Association Musician of the Year for an unprecedented eight years in a row. He's a member of the Nashville Songwriters' Hall of Fame, the Mississippi Musicians Hall of Fame and Jimmy Buffett's Coral Reefer band. He has been releasing albums since he was 20, and he's written several No. 1 hits, beginning with Alabama's "Old Flame."
Scheduled to release Aug. 25 on Mailboat Records, "Southbound" is the first of his 14 albums to present all original material in McAnally's newly arranged orchestral context. The album features 16 tunes from his catalog, each one spotlighting members of Hattiesburg, Mississippi's FestivalSouth Symphony Orchestra, conducted by Jay Dean, accompanying McAnally's performances.
To purchase tickets to the Sept. 7 performance, visit http://bolognapac.com or www.extratable.org.