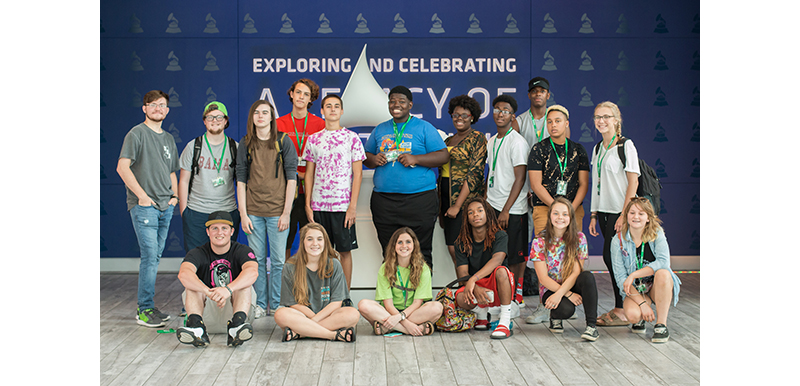 2017 DMI Summer Campers, from left to right (front row): Seth Barrantine (Pickens County, AL), Mollie Marks (Vestavia Hills, AL), Erin Wilson (Cleveland, MS), Xerian Rogers (Tupelo, MS), Marlow Barrett (Logsden, OR), Lilly Gray (Oxford, MS). Back row (l to r): Robbie McDaniel (Greenwood, MS), Evan Lindsey (Minter City, MS), Simon O'Neal (Raymond, MS), Cody McHardy (Rosedale, MS), Cobe Webb (Brandon, MS), Corterrius Allen (Shelby, MS), Ranicia Gorman (Shelby, MS), Amidius Sigle (Shelby, MS), Javel Wilson (Cleveland, MS), Taja Freeman (Cordova, TN), Abby Marks (Vestavia Hils, AL).
Students attending the 11th annual DMI Summer Camp, hosted by the DMI Entertainment Industry Studies program at Delta State University, will present a musical showcase on Saturday, July 15 at 6 p.m. in the Bologna Performing Arts Center on the campus of Delta State.
The showcase will include cover songs by the camp band along with original songs written by the camp's songwriting students.
Seventeen high school students from Alabama, Tennessee, Oregon and multiple counties in the state of Mississippi, are participating in the 2017 DMI Summer Camp. The intensive six-day residential camp experience explores four entertainment industry tracks, including performance, audio engineering, digital media and songwriting, culminating in a recording session at the DMI studios and the final showcase performance.
Instructors for the DMI Summer Camp are DMI faculty members, entertainment industry majors and recent graduates from the DMI program, and visiting music industry professional Steve Azar.
"The DMI Summer Camp offers a great opportunity for young aspiring musicians, engineers and songwriters to develop and showcase their talents by empowering them to each find their own 'voice.' I can report that there is no shortage of talent in Mississippi," said Tricia Walker, director of the DMI.
The final concert is free and open to the public. Supporters of these talented young musicians are encouraged to attend and enjoy the show.
The DMI is an independent center under the College of Arts and Sciences at Delta State University. The mission of the DMI is to provide students with a broad and thorough education in the technological, creative and business areas of the entertainment industries. The DMI offers a Bachelor of Science degree in Entertainment Industry Studies. For more information, call the DMI office at 662-846-4579 or visit http://deltastate.edu/dmi.