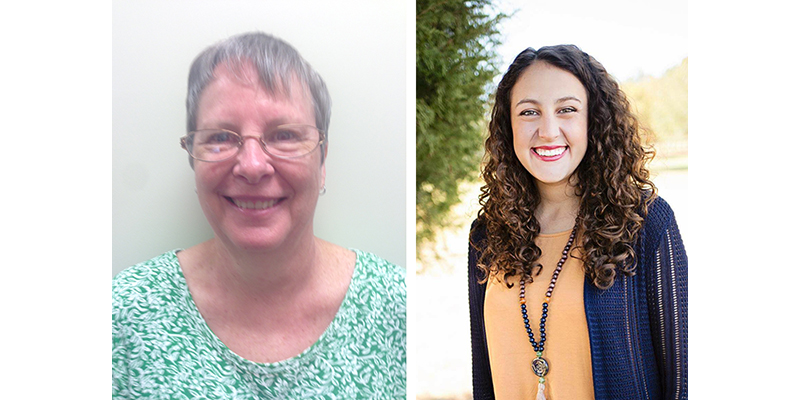 Sheryl Stump of the library (left) and student Allie Rose Parker were recently honored by the annual HEADWAE program.
Higher education in Mississippi celebrated the 30th annual HEADWAE program recently, honoring outstanding students and faculty members from 34 Mississippi public and private universities and colleges.
Higher Education Appreciation Day—Working for Academic Excellence (HEADWAE) was established by legislative resolution to honor individual academic achievement and the overall contribution of the state's public and private institutions of higher learning.
Honorees from across the state gathered at the State Capitol for their recognition in late Febrary. The group was welcomed by Governor Phil Bryant, recognized by the Senate and House of Representatives and given a tour of the Capitol. The day continued with an award ceremony and luncheon.
2016-17 Delta State honorees included Sheryl Stump, cataloger/professor at Delta State's Roberts-LaForge Library, and student Allie Rose Parker, a biology major, SGA president and Olive Branch, Mississippi native.
Stump has been working at Delta State for 28 years.
"I'm very honored to be recognized by HEADWAE," said Stump. "I have endeavored to bring quality to my cataloging work, which enables students, faculty and staff to access the library materials they need. It's nice to know that my work is recognized as part of the larger educational mission of both Delta State University as well as the state of Mississippi. I'd like to thank Jeff Slagell, the dean of Library Services, for nominating me for this honor."
Parker, who is also the first voting student member of the President's Cabinet, was thrilled with the nomination.
"I was so honored to be recognized by HEADWAE because higher education plays such an important role in my life," said Paker. "I am so thankful to go to such a great school that works with students on succeeding in both the classroom and extracurricular realms. It was such a fun experience to get together with the students from Mississippi schools, the faculty members who were honored, and the members of the legislature who joined us."
Corporate sponsors for the HEADWAE program include: Atmos Energy, Jackson; AT&T, Jackson; BancorpSouth, Tupelo; Chevron Products, Pascagoula; ERGON, Flowood; Georgia-Pacific (KOCH Companies), Baton Rouge, LA;  Ingalls Shipbuilding, Pascagoula; Mississippi Power Company, Gulfport; Sanderson Farms, Laurel; Trustmark Bank, Jackson; and Valley Services, Inc., Flowood.
Click here http://www.mississippi.edu/headwae/downloads/headwaehonorees2017.pdf for a full list of 2016-17 HEADWAE honorees.
###
The Mississippi Board of Trustees of State Institutions of Higher Learning governs the public universities in Mississippi, including Alcorn State University; Delta State University; Jackson State University; Mississippi State University including the Mississippi State University Division of Agriculture, Forestry and Veterinary Medicine; Mississippi University for Women; Mississippi Valley State University; the University of Mississippi including the University of Mississippi Medical Center; and the University of Southern Mississippi.