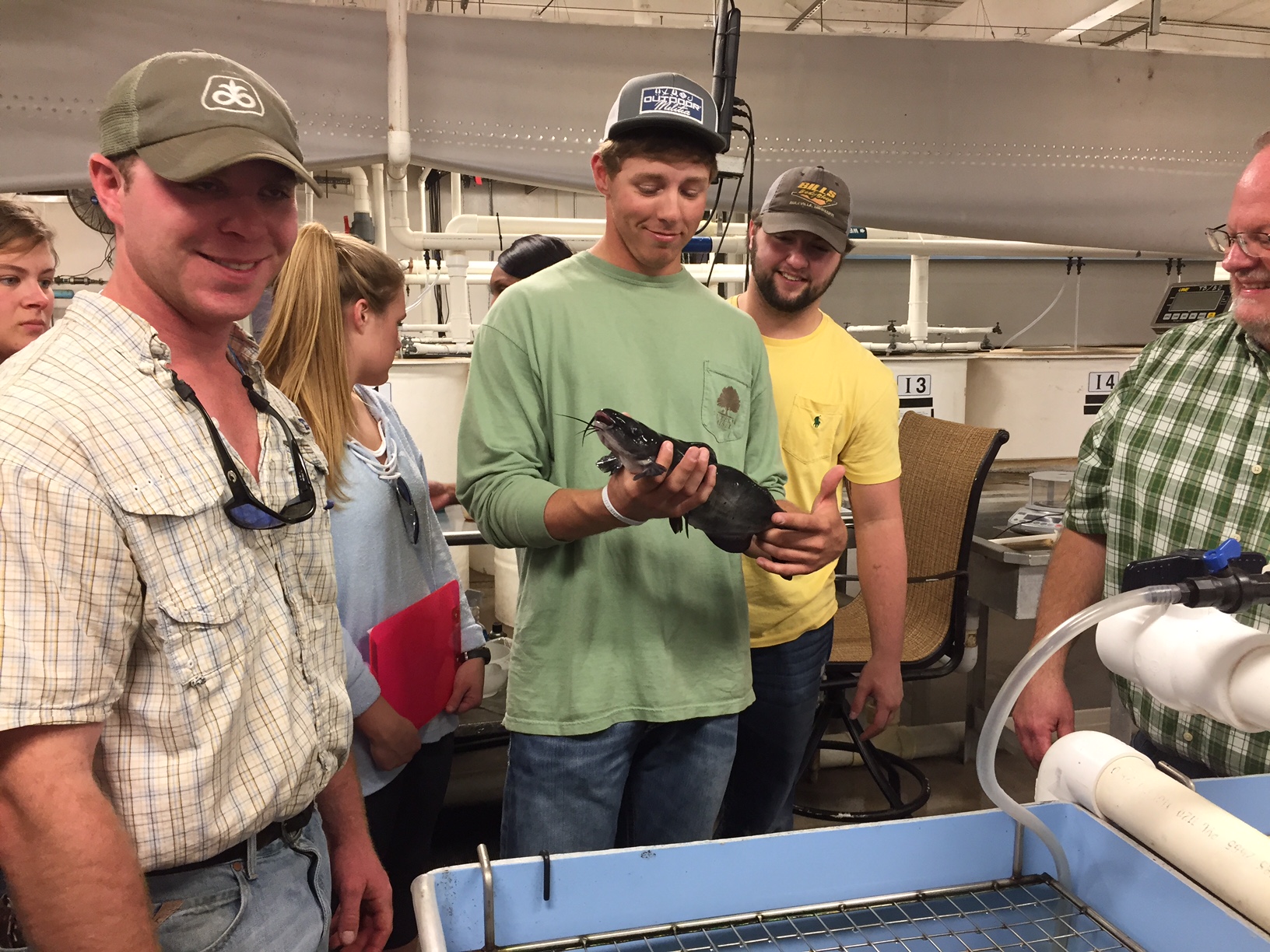 Students from Delta State University recently toured the Thad Cochran National Warm Water Aquaculture Research Unit in Stoneville.
The tour has become an annual event for students in Dr. Nina Baghai-Riding's Biology 123 (Foundation in Environmental Science) class.
This year's tour was led by Daniel Oberle, a fisheries biologist, associated with the USDA-ARS. He showed the students the 300-acre facility and explained how catfish are grown, monitored and processed for distribution.
Thousands of catfish are raised at this environmental site. It takes three to five years for channel catfish to reach maturity, and some of the large catfish at the site were more than 10 years old.
Throughout the tour, Oberle mentioned bacteria and virus infections (including herpesvirus disease) that are common to channel catfish and disease preventative measures. Students also learned about other environmental parameters that the facility uses to raise catfish: water temperature, quality and quantity of food, and breeding success strategies. They also were exposed to agricultural biotechnology and food costs that are required for this industry.
Students were able to see channel catfish, big blue catfish, and hybrid catfish and toured all of the outdoor ponds, handled catfish, and saw them being fed. In addition, students also met some former Delta State University biology and environmental science students who currently work at the facility.
Lahenric Phillips, one of Dr. Baghai-Riding's students, said what he found most interesting was seeing the process as well as how many catfish occur in one small pond.
Overall, this tour tied well into the topic of agricultural food production that Baghai-Riding's class had been exploring this semester. Commercial catfish production is a major aquaculture industry in the Mississippi Delta and in recent years there has been a lot of discussion to about the importance of eating locally-grown food.
To learn more about the Environmental Science program at Delta State University, contact Dr. Nina Baghai-Riding (nbaghai@deltastate.edu) or call the Department of Biological Sciences @ 662-846-4240.