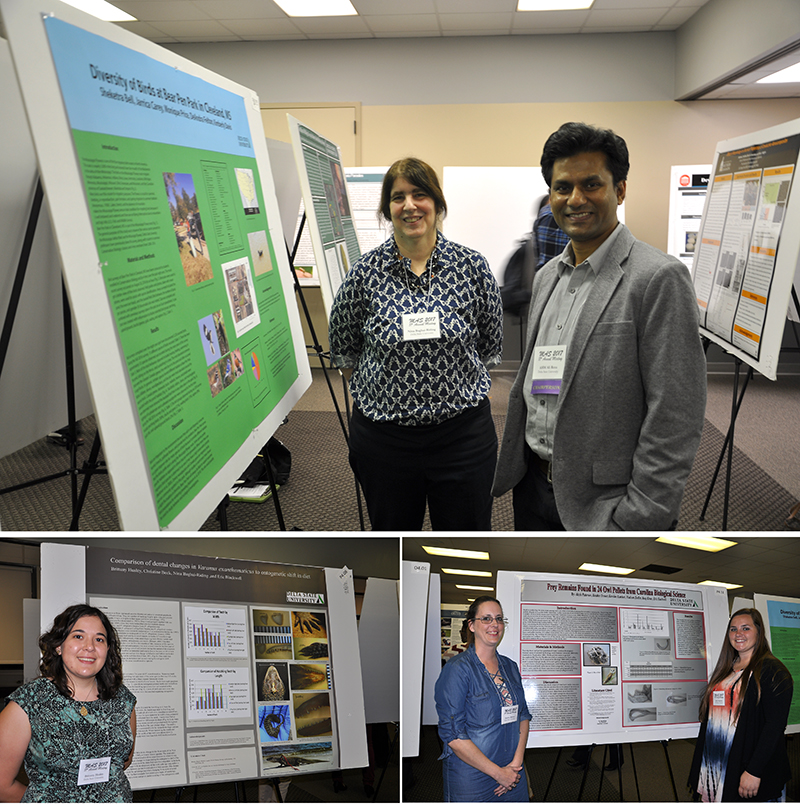 Four Delta State environmental science students and two professors presented at the 81st annual meeting of the Mississippi Academy of Sciences (MAS) in Hattiesburg on Feb. 23-24.
Two presentations were given during the oral session as a part of the Ecology and Evolutionary Biology Division of MAS.
Heather Brewer, a senior at Delta State, received the first place graduate and undergraduate award for her presentation entitled, "Impact of urbanization on bird nest materials in the Mississippi Delta," co-authored by herself, Alexis Patterson and Dr. AHM Reza, assistant professor of biology at Delta State. 
In absence of undergraduate student Christian Frew, Reza presented, "What can affect the movement patterns of white-tailed deer in central Mississippi," co-authored by the duo. Both of these presentations were a product of Reza's vertebrate biology courses, ornithology and mammalogy.
Four poster presentations were also given at the division's poster session.
Patterson and Brewer received a second place award for their poster entitled, "Prey remains found in 24 owl pellets from Carolina Biological Science," co-authored by Patterson, Brewer, Karoline Lambert, Madison Zoeller, Roxy Kimes, Dr. Eric Blackwell and Dr. Baghai-Riding.
Student Brittany Husley gave her presentation, "Comparison of dental changes in Varans exanthematicus to ontogenetics shifts in diet," co-authored by herself, Christine Beck, Baghai-Riding and Blackwell.
Baghai-Riding presented two poster presentations, "Effects of wild hogs at Dahomey National Wildlife Refuge, Mississippi," co-authored by Matthew Galloway, Peyton Hamblin, Mitchel Coleman, Brady Chambley, Matt McGregor; and "Bird surveys conducted at Bear Pen Park, Cleveland, Mississippi," c0-authored by Sheketra Bell, Jarrica Carey, DeAndra Felton, Monique Price and Kimberely Davis. The posters were a product of Baghai-Riding's  conservation biology course.
This year's MAS annual meeting had its largest attendance with over 1,000 attendees. Reza plans to establish a stronger Delta State presence for the 2018 event and seeks all appropriate disciplines to consider joining.
In addition, Reza chaired the EEB Division of MAS in 2016-17. Baghai-Riding and Reza served as judges for the zoology and entomology poster presentations. Also, Reza will serve as the chair of the EEB Division and Baghai-Riding will serve as the vice chair for 2017-18.
To learn more about the Delta State's environmental science program, contact Baghai-Riding (nbaghai@deltastate.edu) or Reza (areza@deltastate.edu), or call the Department of Biological Sciences at 662-846-4240.