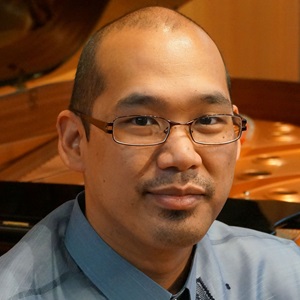 The Department of Music at Delta State University presents guest artist Dr. Jovanni-Rey V. de Pedro in a master class at noon and recital at 7:30 p.m. on Oct. 17 in the Recital Hall of the Bologna Performing Arts Center.
In celebration of the centennial of Alberto Ginastera's birth, de Pedro will perform piano solo works written by the Argentine composer and two other composers, Christopher Norton and Sonny Chua, at the evening recital. Both events are free and open to the public. For more information, contact the Delta State Department of Music at 662-846-4615.
Filipino-American pianist de Pedro enjoys an artistic career that has brought him to concert venues and musical institutions in Asia, across North America, South America, Australia and Europe. Winner of the Boesendorfer Stipendium and Grand Prizewinner of the Fidelio Competition sponsored by the city of Vienna's Cultural Affairs Department, de Pedro also acquired top prizes in several competitions including the United States Open Music Competition, Pacific Piano Competition in Canada, Ibiza Competition in Spain, and the Beethoven Society of Europe's Intercollegiate Piano Competition in England.
Upon graduation from Trinity College of Music, he received the Isabelle Bond Gold Medal for Performance Excellence. He was recently given a first place award at the American Protégé International Piano and Strings Competition, which led to a performance in Weill Recital Hall. His artistic and educational activities have been further supported by grants from the Solti Foundation in Belgium, the Irish Arts Council and the American Women's Association in Vienna.
de Pedro 's academic research and pedagogical interests have led to numerous presentations at conferences for the Music Teachers National Association, College Music Society, European Piano Teachers Association/World Piano Teachers Association in Serbia and the Australasian Piano Pedagogy Association. As a passionate and dedicated educator, he has presented numerous master classes in institutions in the U.S. and abroad. He has served on the teaching staff at City University London and the New Ross Chamber Music Festival (Ireland), and he currently is on the piano faculty at Interlochen Arts Camp in Michigan.
As a chamber musician, de Pedro has collaborated with numerous instrumentalists and vocalists. Together with Irish cellist Tara-Lee Byrne and Portuguese clarinetist Sergio Neves, he founded the Tarvangio Trio in 2008. After making their debut at the Yamaha Chamber Music Series in London, they joined with Hungarian violinist Gwendolyn Masin for a tour of Ireland performing Messiaen's "Quartet for the End of Time." Tarvangio continues to bring entertaining and innovating programs to audiences in the U.S. and Europe.
He continually seeks to serve the music profession and wider community. Through benefit and outreach recitals, he has raised funds for various community, educational, religious and non-profit organizations. As president of the University of Michigan's MTNA Collegiate Chapter, he established the Piano Pedagogy Symposium, a national pedagogy conference for university students, which aims to promote communication, fellowship and collaboration among these future music professionals.
A California native, de Pedro holds a Konzert Diplom (with auszeichnung) from the Vienna Conservatory in Austria, where he spent six years as a scholar of the ASCAP/Leiber and Stoller Foundation, a Master's of Music from Trinity College of Music in London, and a doctoral degree in piano pedagogy and performance from the University of Michigan. He has worked with pianists Robert Ward, Aries Caces, Gerhard Geretschlaeger, Yonty Solomon, Mikhail Kazakevich, Deniz Gelenbe and Louis Nagel, and he coached with Menahem Pressler, Martino Tirimo and Pierre Laurent Aimard. He received additional studies in pedagogy with John Ellis and collaborative piano with Christopher Harding and Eugene Asti.
de Pedro recently served as a visiting professor of music at Millsaps College in Jackson, Mississippi, and an instructor of piano and chamber music at the Levine School of Music in Washington, D.C. He joined the faculty at the University of Idaho's Lionel Hampton School of Music in 2014 as an assistant professor of piano and piano pedagogy and co-director of the preparatory division.