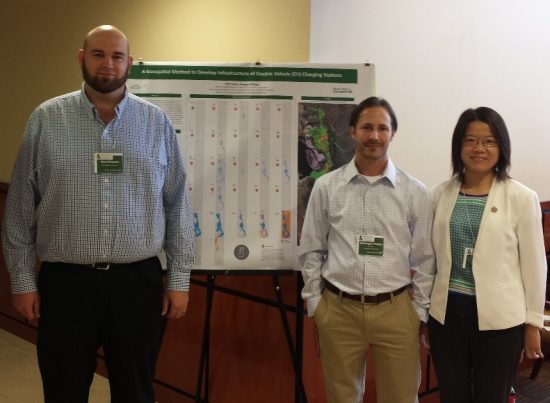 Dr. Yongqin Zhang, assistant professor and director of the MAS-GIT program in the Department of Biological Sciences, and three MAS-GIT students recently gave presentations at the fourth Mississippi Geospatial Conference held at Long Beach on Oct. 20 and 21.
MAS-GIT student Kory Iman received the student poster award.  His research, "A Geospatial Method to Develop Infrastructure of Electric Vehicle (EV) Charging Stations," demonstrated the geospatial applications in transportation analysis.  He used multi-factor analysis to identify optimal locations for installing EV charging stations for the walking public, and gave the government some spatial considerations and guidance for transportation planning.
Iman was not able to show up in the conference due to a training session in Washington D.C. Dr. Zhang brought the award of a $50 check back on behalf of Iman.
The other two MAS-GIT students Aaron Francois and Christopher Phillips gave presentations titled "Study of the Zika Virus using Disease Mapping and Ecological Niche Models" and "Determining Species of Greatest Conservation Need Occurrence in the Yazoo River Drainage, Mississippi," respectively. Dr. Zhang gave a presentation titled "Investigating the Impacts of Hydraulic Fracturing on Natural Gas Production and Vegetation Change through Remote Sensing." Their research utilizes GIS and remote sensing technologies in vegetation and natural gas production analysis, mosquito disease mapping and modeling, and fish species and habitat analysis.
"As the advisor, I am so proud of these MAS-GIT students for their excellent research ability and motivation in applied research using GIT. All of them represented DSU so well. This brings up the reputation of our master's program." said Zhang.