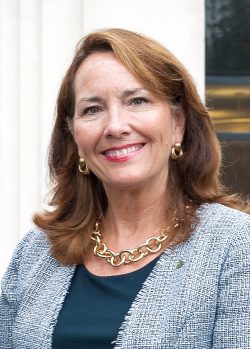 Delta State University First Lady Nancy LaForge was recently elected to the role of vice president of the Mississippi Institute of Arts and Letters (MIAL).
Now in its 37th year, MIAL celebrates Mississippi's artists, musicians and writers.
LaForge, who previously served as a MIAL board member, will serve one year as VP and then as president.
"I am humbled to be elected vice president of the Mississippi Institute of Arts and Letters, and grateful for the opportunity to serve an organization so dedicated to promoting the arts," said LaForge. "MIAL sponsors the only juried arts and literature competition and awards ceremony in the state of Mississippi."
"As vice president, I will oversee the category chairmen responsible for receiving and organizing all nominations for awards," added LaForge. "I am thrilled to be working with an outstanding group of people in the MIAL, and I am dedicated to supporting the artists, musicians and writers who share our wonderful Mississippi connection."
JoAnne Prichard Morris of Jackson will serve as president this year, and LaForge will begin her service as president in 2017.
In 1978, MIAL was dreamed up by a few discerning individuals, including former Governor William Winter, Dr. Aubrey Lucas (former president of Delta State), Dr. Cora Norman, Dr. Noel Polk, and Keith McLean of Cleveland. These founding members believed that among Mississippi's greatest riches are its artists, writers, and musicians, who must be supported, nurtured and recognized.
MIAL strives to recognize outstanding achievement in seven categories: fiction, non-fiction, visual arts, musical composition (concert), musical composition (popular), photography and poetry.
Each year, MIAL hosts an awards gala to recognize and honor the artistic achievements of living Mississippians. The ceremony, which is hosted in different cities across the state, will take place at Delta State in June of 2017.
Learn more about MIAL at http://www.ms-arts-letters.org.