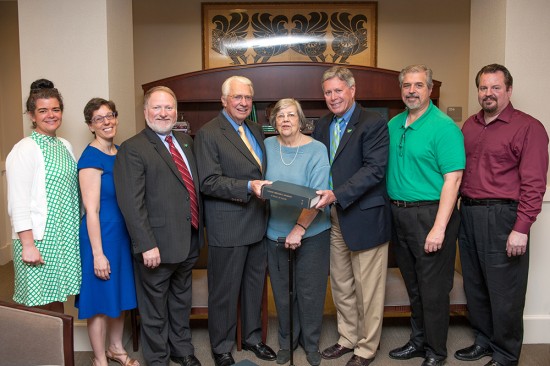 Former Delta State University biology professor, Dr. James Steen, recently made a heartfelt donation of his 20-year project, "A Selected Chronological Bibliography of Biology and Medicine."
The four-volume bibliography that Steen self-published in 2015 celebrates the secondary authors and laboratory technicians who are responsible for the great labor of discovery in the fields of biology and medicine. The work includes 2,875 pages, 21,457 references, 8,097 first authors cited and 2,632 journals cited.
Steen a Delta State graduate in 1962, taught in the Department of Biological Sciences for 30 years. He recently donated the hard copies of his compilation to Delta State University President William N. LaForge.
The university will now house the hardcover copies, and an online edition is available at http://ntweb.deltastate.edu/jtift/scbm/scbm-1.html.
"It's a wonderful feeling to see this come to fruition," said Steen. "I appreciate the university being gracious enough to receive this and put it in their collection. I wish to express my gratitude to Dr. Tiftickjian, my friend and former colleague at Delta State University. John formatted and placed my book on the DSU server, thereby allowing easy access to anyone wishing to search it."
Steen started the project primarily for students, providing them a guiding source throughout their research. And Steen said he's not fully done with it, as he and Tiftickjian will continue to update the information online.
LaForge could not be more thrilled to add the work to the Delta State library.
"We very much appreciate your contribution to your university. This is a wonderful compilation of work you put together, and it's truly a labor of love," said LaForge. "The volumes that you have here represent a lot of time — from the heart and the mind. Thank you for bestowing this on our university.
"It's the students who will benefit most from this great work you have contributed."
Dr. Charles McAdams, provost and vice president of Academic Affairs, was also grateful for Steen's donation.
"Let me just echo the thanks from President LaForge," said McAdams. "It's this type of bibliographic information that is extremely valuable for students as they begin their journey down a research path."
Follow all Delta State University news at www.deltastate.edu.