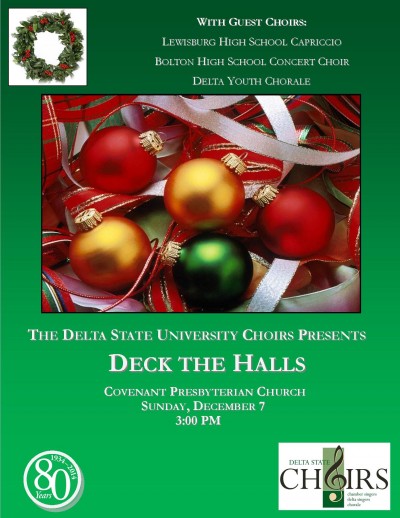 Delta State University Choirs will be performing its annual "Deck the Halls" concert Dec. 7. The event will be held at Covenant Presbyterian Church at 3 p.m.
For the third straight year, guest choirs have been invited to perform. This year, Delta State University Choirs will be hosting the Delta Youth Chorale, Lewisburg High School Capriccio and Bolton High School Concert Choirs.
All of the Delta State University Choirs and guest choirs will perform.
"This is a huge recruitment event for the Department of Music as around 80 high school students from Mississippi and Tennessee will perform," said Dr. Nicholaus Cummins, director of Choral Activities. "Each year has been a huge success."
The event is free and open to the public. For more information, contact Cummins at 662-846-4115 or ncummins@deltastate.edu.