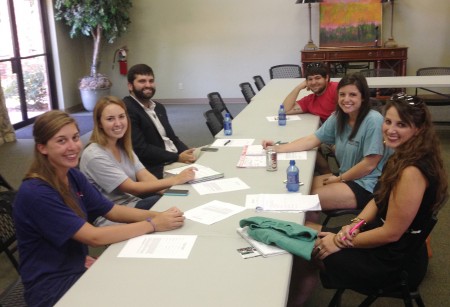 The Delta State University Student Alumni Association is busy preparing for the upcoming school year. The executive committee recently met to schedule the group's meetings for the fall semester. This year's meetings will be Sept. 10, Oct. 8, Nov. 5 and Dec. 3. Each meeting will be at the Hugh Ellis Walker Alumni-Foundation House at 5:30 p.m.
The Student Alumni Association is a bridge between the Delta State student body and the Delta State University Alumni Association. The SAA works with the Alumni Association on projects such as Pig Pickin', Homecoming and Go Green Weekend. The group is also very active in the community.
This year's SAA officers are: Brooks Bishop, president; Olivia O'Reilly, vice president; Hannah Goudy, secretary; Jared Kirk, treasurer; Whitney Crum, projects co-chair; Meredith Brown, projects co-chair; and Justin Ainsworth, historian.
"We're looking forward to another great year for SAA," said Bishop. "I'd like to encourage any student looking to get involved on campus to join our organization because we have an outstanding group."
For more information on the Student Alumni Association, contact the Alumni Office at 662-846-4660. The SAA officers and advisors will also be at the Organizations Fair on Sept. 3 from 2-4 p.m. in the Union for any prospective members to sign up.
To stay up to date on the Alumni Association's activities, follow these social media sites: Facebook (Statesmen Graduates), Twitter (@DSU_Alumni), Tumblr (http://www.dsualumni.tumblr.com), LinkedIn (DSU alumni), Instagram (dsualumni) and You Tube (dsualumni1).