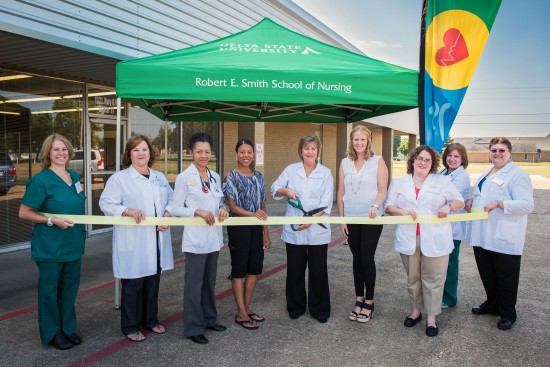 The Cleveland-Bolivar County Chamber of Commerce celebrated a ribbon cutting today as Delta State University and the Robert E. Smith School of Nursing proudly opened the doors of the Healthy Lifestyle Center.
The center, located in Cleveland at 1321 Highway 8 West, Suites 11-12, will be operated by RESSON and is funded by a grant from Health Resources and Services Administration of the U.S. Department of Health and Human Services.
A public open house for the center will take place Aug. 21 from 4-7 p.m.
The Healthy Lifestyle Center will provide programs and services to assist patients of all ages with developing healthy lifestyle changes. The goal of these changes is to prevent diseases such as diabetes and heart disease. The services focus on working with individuals to improve overall wellbeing.
"The new concept of how health care should be delivered is focused on prevention," said Dr. Shelby Polk of RESSON, and project director for the HRSA grant. "It's been a way of thinking for about 10-15 years. We are thrilled to finally see the doors open so we can transform how health care is delivered in the Delta.
"What we will provide is different from anywhere else in the region. This has the potential to help transform health care beyond just our area."
The preventative method primarily focuses on nutritional and physical activity assessments to help determine the individual's most pressing health needs.
"Anyone interested in making lifestyle changes for better health is eligible," added Polk. "Schedule your appointment to get your initial nutritional and physical activity assessment."
The number to call is 662-843-6251. Hours are Monday-Friday from 8 a.m.-5 p.m., with the potential for expanded hours as the program grows.
Eligible patients will be exposed to a number of services and programs, including: diabetes prevention; diabetes self-management; 16-week weight lost program; tobacco cessation; meal replacement plans; SHAPEDOWN program for children ages 6-17 and their parents; and more.
"We will have a massive amount of services," said Polk. "After the initial assessment, patients will choose goals that matter to them. We won't tell you what you must do, but we will help you learn how to achieve your goals.
"We don't want to be known as a weight loss center or a diabetes center. We are going to be looking at all aspects of a healthy lifestyle."
The Healthy Lifestyle Center is just one tier of programming made possible by the HRSA grant. The grant also funds the major three-year initiative known as the Delta Healthy Families Project. This project will deliver future health care provider trainings in the region, along with a number of community events and trainings.
Stay up to date with the center and RESSON at http://www.deltastate.edu/school-of-nursing/.