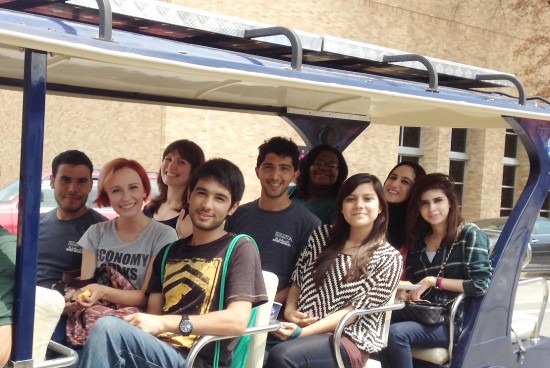 Delta State University is pleased to welcome eight new international students on campus as part of the U.S. Department of State's Global Undergraduate Exchange Program in Eurasia and Central Asia (Global UGRAD).
Joining the Delta State family are: Darya Hushtyn from Belarus; Kamila Umarova from Uzbekistan; Ahmed M'farrej and Amine Nouira from Tunisia; and Anam Fatima, Munazza Ilyas, Salahuddin, Kanwal Kataria from Pakistan.
"The Global UGRAD Program aims to advance youth leadership and promote mutual understanding by providing either one semester or one year of non-degree U.S. study to undergraduates from 12 countries of the former Soviet Union," said Christy Riddle, executive director of International Student Services at Delta State.
In addition to their academic studies, Global UGRAD students perform community service, explore American traditions through the unique Cultural Passport to America program and engage in professional development activities.
"The Global UGRAD program is highly competitive, averaging over 2,500 applications per year with an acceptance rate of less than three percent," added Riddle.
The program is sponsored by the U.S. Department of State's Bureau of Educational and Cultural Affairs (ECA), supported by the people of the United States, and is implemented by the International Research & Exchanges Board (IREX). Since 1992, nearly 4,000 participants have completed the program, increasing diversity on hundreds of campuses throughout the continental U.S., Alaska and Hawaii.
The ECA works to increase mutual understanding between the people of the United States and the people of other countries by means of educational and cultural exchange that assist in the development of peaceful relations. As mandated by the Mutual Educational and Cultural Exchange Act of 1961, the ECA works to build these relations through academic, cultural, sports, and professional exchanges, as well as public-private partnerships.
For more information about ECA exchanges, visit http://exchanges.state.gov.
IREX is an international nonprofit organization that provides leadership and innovative programs to promote positive lasting change globally. The organization aims to build key elements of a vibrant society — quality education, independent media and strong communities. To strengthen these sectors, program activities also include conflict resolution, technology for development, gender and youth.
Founded in 1968, IREX has an annual portfolio of over $70 million and a staff of over 400 professionals worldwide. IREX employs field-tested methods and innovative   uses of technologies to develop practical and locally driven solutions with partners in more than 125 countries.
To learn more about international programs at Delta State, contact Riddle at 662-846-4574 or criddle@deltastate.edu.