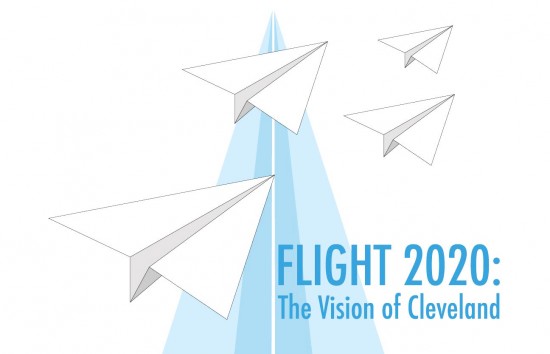 In 2012, local artist and Delta State University art professor Cetin "Chet" Oguz, spearheaded a group of dedicated citizens through an exciting concept known as Flight 2020: The Vision of Cleveland.
The community-based art project, now in its third year, asks citizens to write their aspirations for Cleveland's future, in hopes that they will come to fruition by the year 2020. Project leaders and artists then create visual representations of these visions, which go on display at the annual Flight 2020 exhibit at the Delta Arts Alliance in Cleveland.
This year's opening is scheduled for Sept. 9 at 6 p.m., an event that doubles as the DAA's annual membership meeting. Additionally, the exhibit will be co-hosted at Oguz's brand new art gallery, Studio 230, just two doors down from the DAA.
The idea for Flight 2020 was inspired by Oguz's desire to impact the community inclusively — and to increase community involvement across Cleveland's diverse population.
"It started with thinking about art as a trigger for social change," said Oguz. "Cleveland has so many good qualities, and I think 2020 is about being productive and creative with the assets we currently have, along with the positive changes we hope to see in the future."
Oguz is quick to point out the project is not his alone. In the previous exhibits, contributions have come from elected officials, community members, Delta State faculty, staff and students, and multiple artists living outside Mississippi who support the concept.
"Flight 2020 has started the conversation and put a number of good ideas on the table," said Oguz. "Now we want to see action, to see where these dreams can go."
A number of visions focus on community development issues that would increase the quality of life for Clevelanders. From a splash pad water park, dog park, movie theater, skateboard and BMX park, improved bike lanes on city streets — these are just a few on the list of significant insights.
The Flight 2020 platform has caught the attention of Cleveland Mayor Billy Nowell, a proud Delta State alumnus who understands the importance of progression in Cleveland.
"The creative minds of Flight 2020 and the ideas of our citizens will continue to help lead our hometown," said Nowell. "We want to keep Cleveland on the cutting edge when it comes to quality of life, and of course, all of these ideas will lead us down the right path.
"As long as I am mayor, I will sincerely listen to these ideas, as well as discuss them with our city board and city officials. The goal is not just discussion, but also action."
The Cleveland-Bolivar County Chamber of Commerce has also supported the exhibit, understanding that many of the chamber's initiatives align with the Flight 2020 premise.
"The efforts of Flight 2020 go hand-in-hand with many of our programs — from Cleveland Main Street, the Asset Mapping Development Group, Leadership Bolivar County, Young Professionals — the list goes on," said Lisa Cooley, Main Street manager for the chamber. "We look forward to the ideas presented each year because they help us consider what's best for the future of Cleveland."
Community events have also been sparked by the exhibit, another goal of the project. Multiple "Ride the Line" communal bike rides around Delta State's campus and historic downtown Cleveland have operated under Flight 2020. Delta State students, President William N. LaForge and community members have all participated in the event, which intends to bring awareness for cycling lanes, trails and community integration.
This year's exhibit will also feature a collaborative project by the Teen Advisory Group program offered at the Robinson-Carpenter Memorial Library in Cleveland. TAG actively advocates for the rights of teens, along with fostering reading and library services. The group's project will incorporate music, literature and dance.
Oguz continues to remain hopeful for positive change sparked by Flight 2020, just one motivation to open his new gallery Studio 230.
"It's good to appreciate everything we have in Cleveland, but I think it's beneficial to reevaluate what we can all do better," he said. "The gallery was my personal way to bring together creative minds for community projects and create opportunities for educating youth through art lessons."
For more information on the exhibit opening or to contact Flight 2020: The Vision of Cleveland, visit https://www.facebook.com/pages/Flight-2020-The-Vision-of-Cleveland/201134073300243.