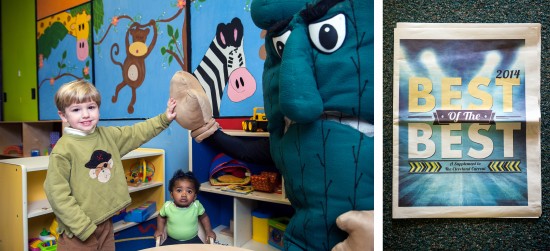 Three Delta State employees and one Delta State program were recently honored by the Cleveland Current newspaper for winning 2014 Best of the Best recognition. The awards are given to individuals, employees and businesses that are among the best in the city of Cleveland and voted on by the residents of the city.
Sharon Krugler, administrative assistant for the Alumni-Foundation office was named "Best Receptionist."
"Thank you Cleveland and Bolivar County for voting me  2014's best receptionist," said Krugler. "It's truly and honor."
Other individual winners included: "Best Secretary" – Elizabeth Bowler, senior secretary for the Alumni office; and "Best Cashier" – Camesha Benson, Perkins Loan coordinator for Student Business Services.
Delta State University's Hamilton-White Child Development Center program was honored with the "Best Daycare" award. The program was also selected by the Bolivar Commercial newspaper as the "People's Choice Favorite Source for Child Care in Bolivar County."
"We're proud that the center has been recognized by the community for these awards," said Stephanie Farris, director of Delta State Preschool Programs. "The Hamilton-White Child Development Center faculty and staff strive to provide the highest quality child care in a healthy and stimulating environment with an integrative curriculum. We are very grateful to be recognized."