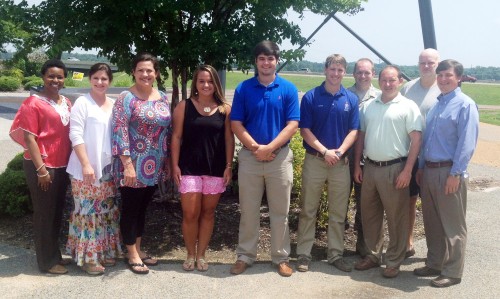 The Delta State University Alumni Association will hold its annual Desoto County Alumni gathering August 9 at the BankPlus Training Center in Southaven. The event begins at 6 p.m. with a social hour, followed by campus updates from President William N. LaForge and the Alumni and Foundation staff members.
"The Desoto County Chapter has taken the initiative to focus on scholarship dollars for students who attend Delta State from the area," said Jeffrey Farris, director of alumni affairs. "Another focus area by the chapter, led by volunteers, is to help raise marketing dollars for Delta State to have a better presence in the Desoto County area."
The silent auction proceeds go directly to the Desoto County Alumni Scholarship fund, which is awarded to students in the county who will begin studying at Delta State in the fall. This year's recipients are Tanner Lloyd and Brittany McClendon.
Each year, the committee chooses an area of campus to be recognized at the event. This year, the committee will recognize the Delta State University Department of Art. Department chair Ron Koehler will be at the event to provide updates and information on the program.
Attendees can register and pay in advance online at www.deltastategiving.org/alumniassociation/desotocountyevent.
For more information, contact the Alumni Association at 662-846-4660. To stay up to date on the Alumni Association's activities, follow these social media sites: Facebook (Statesmen Graduates), Twitter (@DSU_Alumni), Tumblr (http://www.dsualumni.tumblr.com), LinkedIn (DSU alumni), Instagram (dsualumni) and You Tube (dsualumni1).
 Save the dates for Pig Pickin' (September 27) and Homecoming (November 15).