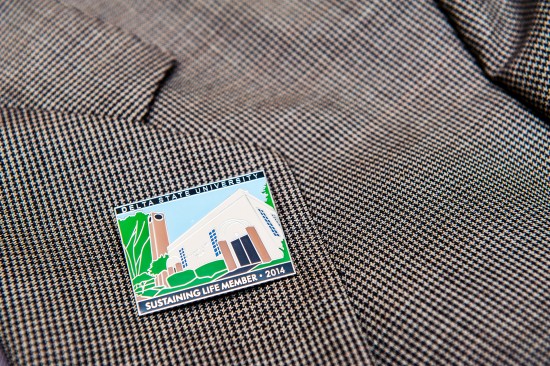 The Delta State University National Alumni Association launched the Sustaining Life Member Program in 2013 as a voluntary way for current paid-in-full lifetime members to provide additional annual support to the association with a yearly tax-deductible gift of $100.
With the program now in its second year, members are recognized for their generosity in an issue of Delta State magazine and listed on the Alumni Association's website. Members also receive a Sustaining Life Member certificate and a special edition lapel pin.
The 2013 lapel pin featured the Delta State quadrangle with the oak trees towering above. The 2014 pin features the Lena Roberts Sillers Chapel.
"We at the Alumni Association would like all Life Members to strongly consider supporting the 2014 Sustaining Life Member Program," said Jeffrey Farris, director of Alumni Affairs. "All funds raised will be used strictly for the Hugh Ellis Walker Alumni Scholarship, which is given to incoming freshmen and transfer students whose parents are dues-paying members of the Alumni Association."
The Hugh Ellis Walker Alumni Scholarship is a one-time gift of $500. Over the past five years, over 100 students have received the scholarship. With the establishment of the Sustaining Life program, the Alumni Association hopes to double the number of scholarships given each year to legacies.
There are currently over 2,500 Life Members of the National Alumni Association. Members who did not join the Sustaining Life Program for 2013 can still donate and receive their special edition lapel pin. To participate in the Sustaining Life Member program or for more information, contact the Alumni Association at 662-846-4660 or visit the website www.deltastategiving.org/alumniassociation/sustaininglifememberprogram.
To stay up to date on the Alumni Association's activities, follow these social media sites: Facebook (Statesmen Graduates), Twitter (@DSU_Alumni), Tumblr (www.dsualumni.tumblr.com), LinkedIn (DSU alumni), Instagram (dsualumni) and You Tube (dsualumni1). Save the dates for Pig Pickin' (September 27) and Homecoming (November 15).