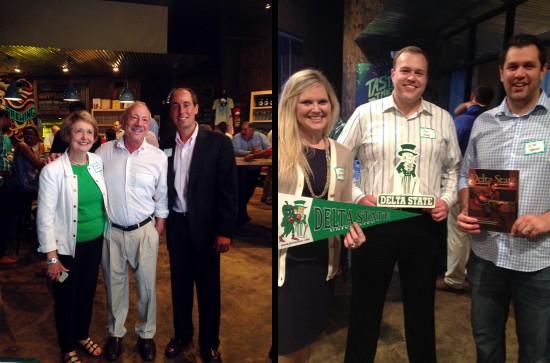 The Delta State University National Alumni Association recently traveled to Memphis for the annual Memphis Area Alumni Chapter Event. This year's event was held at Wiseacre Brewing Company with food provided by the Central BBQ Food Truck.
"Our annual event was quite a success this year," said Joel Mosby, Memphis Alumni Chapter president. "Wiseacre Brewing Company and the Central Barbecue food truck kept everyone happy. It's always a great time when the Delta State crew gets together."
Director of Alumni Affairs Jeffrey Farris gave a university update and read a letter addressed to the chapter from Delta State President William N. LaForge. Other guests from campus in attendance included: Davlon Miller, director of Career Services; Chris Gaines, director of recruiting; and Jordan Thomas, assistant director of Alumni Affairs.
The evening concluded with the announcement of the new Memphis officers: Laura Lee Grommersch, president; Kate Kinnison Van Namen, vice president; and Oliver Mansour, secretary/treasurer.
To stay up to date on the Alumni Association's activities, follow these social media sites: Facebook (Statesmen Graduates), Twitter (@DSU_Alumni), Tumblr (www.dsualumni.tumblr.com), LinkedIn (DSU alumni), Instagram (dsualumni) and You Tube (dsualumni1). Save the dates for Pig Pickin' (September 27) and Homecoming (November 15).