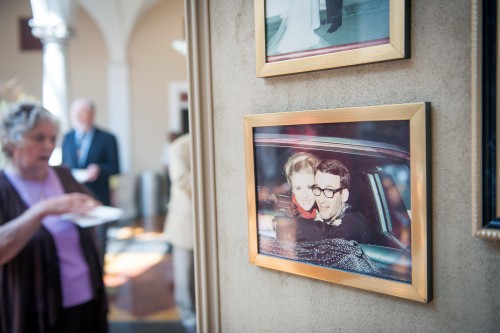 A number of campus and community members gathered April 25 to celebrate the portrait unveiling of the late Article III U.S. District Judge W. Allen Pepper Jr. at Kent Wyatt Hall on the campus of Delta State University.
Pepper, who resided in Cleveland and was loved by many in the community, passed away suddenly on Jan. 24, 2012.
Pepper's wife, Virginia "Ginger" Brown, and son, William Allen Pepper III, retired U.S. Senator from Mississippi Trent Lott and federal judges were in attendance for the special ceremony.
Also announced at the event was the Pepper family donation of the judge's professional and personal memorabilia to be stored at the Charles W. Capps, Jr. Archives & Museum on Delta State's campus.
Highlighted items include: birth certificate and baptismal record; manuscript and photographs from Belzoni Elementary through high school years; photographs of family and friends in Belzoni; military records; the University of Mississippi fraternity involvement, baccalaureate and graduation records and photographs; photographs of wedding to Virginia Brown; newspaper clippings announcing law practice; court case decisions; appointment as a federal judge; his mother's Bible and the Bible from which he taught Sunday School at First United Methodist Church in Cleveland; ski patches from the various ski trips the Pepper family made; posters and notes on the ski competitions Pepper participated in; correspondence between Pepper and fellow lawyers and judges in the district; article manuscript submissions for various publications; framed invitations to U.S. presidential inaugurations (Bush, Clinton and Bush); candid photographs of Pepper with various friends such as Lott and other ranking government officials; commemorative gavels, coffee mugs, plaques and other notable artifacts from Pepper's philanthropic activities; and full newspapers and clippings related to major accomplishments in Pepper's career.
Emily Jones, university archivist, was honored to help the Pepper family organize the plethora of items.
"In particular, the Pepper collection represents one of our community's treasured members," said Jones. "Within the boxes and folders, mementos and photographs are the stories of lives touches by W. Allen Pepper, Jr. The University Archives and Museum is honored that the Pepper family has donated this collection in our safe keeping."
The University Archives is home to the following notable political collections: Charles W. Capps Jr.; Walter Sillers Sr. and Jr.; Benjamin Grubb Humphreys; Florence Warfield Sillers; Lucy Somerville Howorth; Representative Hainon Miller; and Charles Clark.
"I know the significance of a collection such as this being added to the archives at Delta State," said Jones. "We have several collections in house related to politicians and lawyers — but to have a collection of papers from a judge of this caliber is something we are definitely honored to add."
Pepper, who worked at the U.S. Courthouse in Greenville, was appointed to the position of U.S. District Judge in 1999 by then President Bill Clinton. His portrait will permanently hang at the Greenville courthouse.
While Pepper did not complete his education at Delta State, he was a long time supporter and friend of the university. He was a graduate of The University of Mississippi, where he was a member of the Sigma Nu Fraternity and received a Bachelor of Arts degree in 1963.
He received his Juris Doctor degree from The University of Mississippi School of Law in 1968 and maintained a solo law practice for 30 years prior to his appointment to the bench.
He also served two years as an officer with the 101st Airborne Division of the U.S. Army.
Along with being an exceptional attorney and judge, Pepper was a dear friend to many in the community and tried to live as an exemplary leader. He served as president of the Lions Club, Crosstie Arts Council and the Bolivar County Ole Miss Alumni Association. Additionally, he was the vice president of the Cleveland-Bolivar County Chamber of Commerce and worked with local Cub Scouts as a scout master, Habitat for Humanity, and a number of other community organizations.
Pepper had long ties with the First United Methodist Church, where he taught Sunday School for 12 years and served as chairman of the Administrative Board, Finance Committee and Pastor Parish Relations Committee.
For more information on the Pepper collection, or Delta State's Archives & Museum, visit www.deltastate.edu/academics/libraries/university-archives-museum.