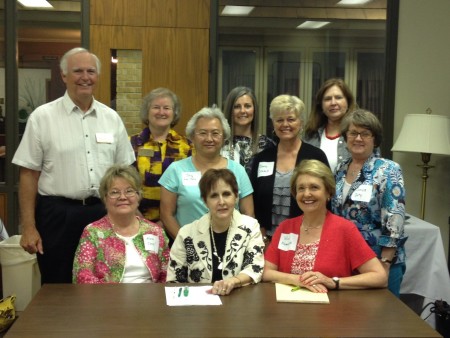 A group of Family and Consumer Sciences alumni from Delta State recently met to discuss ways to refresh the FCS constituency group. The group will help promote and support the division and its students and faculty in various capacities.
"I was pleased to be part of the establishment of an advisory board for the division of Family and Consumer Sciences at my alma mater," said member Vicki Fioranelli. "The collaborative meeting between faculty and alumni, under the leadership of division chair, Dr. Jan Haynes, identified three immediate needs — establishment of additional scholarships; recruitment of students; and support of events such as the November fashion show by renowned Memphis designer Pat Tigrett."
Charter members of the board include (front l to r): Norma Cooper; Jan Haynes, division chair; Vicki Fioranelli, board chair; (back): Tommy Taylor; Virginia Webb; Joy Chow Woo; Cary Moore; Jane Crump; Ensley Howell; and Jamye Doty. Missing from the picture: Stephanie Farris, Shakesha Thames, Barbara Watson and Elizabeth Joel.
Learn more about FCS at Delta State at www.deltastate.edu/college-of-education/family-and-consumer-sciences.