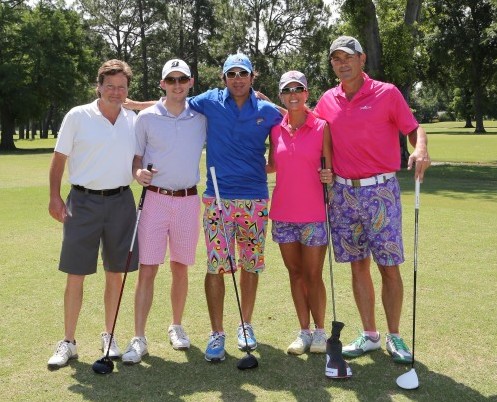 The third annual Steve Azar Delta Soul Celebrity Golf and Charity Event will be held June 5-7 in Greenville, Miss.
All proceeds from the event benefit the Steve Azar St. Cecilia Foundation (SASCF). Previous years have proved success, raising approximately $280,000. The beneficiaries for the 2013 event were the Greenville Arts Council, St. Joseph Catholic Schools, Delta State University and the Delta Music Institute, the Boys and Girls Clubs of Washington County, Delta 180, Delta Children's Museum, DeSoto Family Theatre, Camp Looking Glass, Delta Center Stage and Delta Symphony.
This year's event promises to be even larger as word is spreading about the Delta's hospitality and great food. The Delta Soul has garnered the attention of publications such as Golf Digest and Country Weekly.
Event founder Steve Azar said, "The Delta Soul has received national recognition recently; it has been good to have our Delta featured on the 'big stage.' We are looking forward to another year of celebration and giving back."
The schedule of events includes a private celebrity dinner on June 5 at Doe's Eat Place followed by a stop at Walnut Street Blues Bar. The Celebrity Cup Challenge kicks things off on June 6 with the Big Night Party and Auction following on Friday evening. Both events are scheduled to be held at the Greenville Golf and Country Club. Saturday morning the golf tournament begins at the Greenville Golf and Country Club immediately followed by a Delta catfish fry. Harlow's Casino and Resort will rock with the Steve Azar and Friends Jam on Saturday night.
Celebrities scheduled to participate this year include: NHL Hall of Famer Grant Fuhr, major league baseball great Reggie Smith, Superbowl winning quarterback Jim McMahon, former NFL tight end Wesley Walls, saxophonist Branford Marsalis, actors Grant Show, Chris Rich and Richard Karn, Mark Bryan and Dean Felber of Hootie and the Blowfish, former LPGA star Kris Tschetter, Ray Lloyd also known as The Glacier and Supermodel Kim Alexis to name a few.
Presenting sponsors for 2014 are Blue Cross and Blue Shield of Mississippi, The Skin Institute and the Hartness Foundation. Harlow's Casino and Resort is the host hotel with James Ceranti Motors providing transportation for guests.
For more information on becoming a sponsor or purchasing tickets, go to www.sascf.org or contact deltasoul@sascf.org or info@sascf.org.