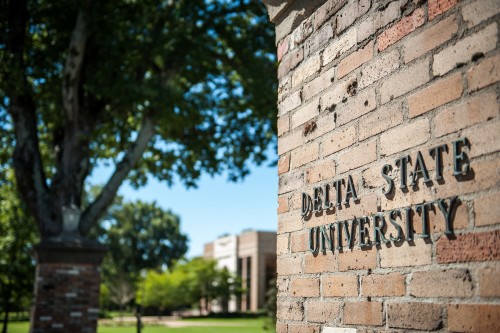 The Office of Information Technology at Delta State University is pleased to announce the OIT Canvas Showcase Awards at 3 p.m. April 30 in the Jacobs Conference Center of Ewing Hall.
Nicole House, OIT manager of Instructional Technology, recently submitted several of Delta State's online courses to Canvas for consideration in its national showcase, five of which were selected.
The Canvas Learning Management System, launched in 2012, is used by more than 600 colleges, universities and school districts as a massive online course platform. Organized by Instructure Inc., the program was selected by Cisco Networking Academy to power "the world's largest classroom."
"We became the first four-year university in the state to use Canvas and now we will be the first in the state to have classes showcased nationally," said House. "We began using Canvas in June of 2013, so this is certainly an accomplishment worthy of acknowledgement. Who knew we would have achieved so much in nine short months?"
OIT established the awards ceremony to recognize the model online courses selected for inclusion in the national showcase. The event also serves to acknowledge faculty effort to demonstrate best practices in using instructional technology and Canvas tools to transform traditional learning content into meaningful online activity.
Courses selected for submission highlighted effective use of Canvas tools including Wikis, rubrics and modules. A team of Canvas reviewers evaluated the courses prior to their subsequent selection to the showcase.
"The inclusion of these courses validates Delta State's faculty commitment to excellence in teaching, online community development, course design and innovation," added House.
Faculty members to be honored in the ceremony include: Thomas W. Taylor, College of Education and Human Sciences; William Katembe, College of Arts and Sciences; Renelda Owen, College of Arts and Sciences; Vicki Bingham, College of Nursing; Addie Herrod, College of Nursing; and Michaela Merryday, College of Arts and Sciences.
President William N. LaForge will offer remarks and Provost Charles McAdams will hand out awards. Recognized faculty will make brief remarks and showcase their courses.
The Office of Information Technology provides the Delta State community with information technology leadership, services, and support. OIT, which represents a partnership between Delta State University and Ellucian, the leading provider of software and services for higher education, fosters an environment which empowers faculty, students, and staff to use technology to achieve their goals.
For more information, contact OIT at 662-846-4760.