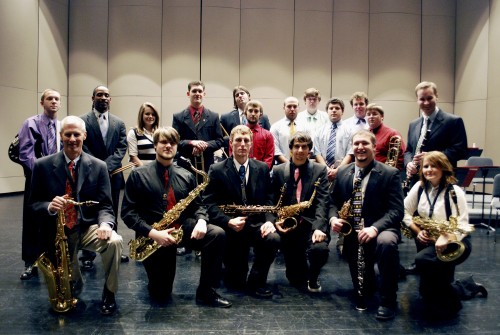 The Delta State University Jazz Ensemble, under the direction of assistant professor of music Bret Pimentel, presents its annual spring concert at 7:30 p.m. on April 16 in the Delta and Pine Land Theatre of the Bologna Performing Arts Center. The concert will feature special guest vocalist Chad Payton, assistant professor of music at Delta State.
The ensemble is a 17-piece "big band" made up of music majors and non-music majors selected by competitive audition. The band is known in the community for its annual Big Band Bash fundraiser, an evening of dining, dancing and classic swing era music.
Big band jazz is characterized by tightly coordinated, high-energy playing from a large horn section made up of trumpets, trombones and saxophones — all working in partnership with a powerful, driving rhythm section of keyboards, bass and drums. Individual group members often perform solos that are improvised in live performance.
The ensemble's repertoire includes favorites from the swing era of the 1930s-40s, as well as more contemporary jazz styles from the 1950s to present. This year's fall concert lineup includes new and classic swing music by great composers and arrangers like Sammy Nestico, Maria Schneider, George Gershwin, Neil Hefti and Frank Mantooth. The concert will feature a large number of talented student and community soloists.
The concert is free and open to the public. For more information on the Department of Music and bands at Delta State, contact 662-846-4615.