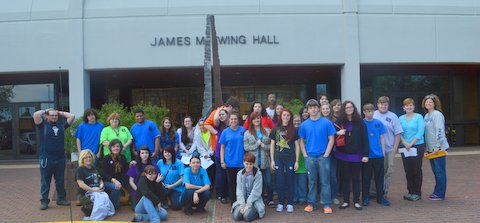 The Delta Center for Culture and Learning recently introduced a group of 50 art students from Pearl High School to the Delta's cultural heritage. Students participants are members of the National Art Honor Society, representing the top students of over 400 art students in grades 9-12.
The group visited the Department of Art at Delta State at the invitation of Mollie Rushing, instructor of art. They also toured local museums, galleries and studios and met with Delta State recruiting officers who gave them a full tour of campus. All of the participants hope to find careers in art. Their Delta introduction was given by the Delta Center's Lee Aylward.
For more information on the Delta Center for Culture and Learning, call 662-846-4311.