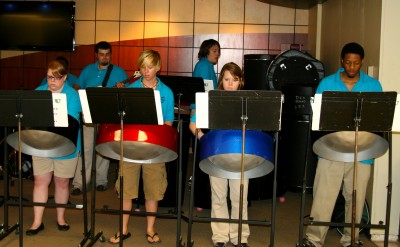 Delta State University's Department of Art along with the Department of Music will present a First Tuesday Program on April 1 from 12:15-1:00 p.m. in room 151 of the Holcombe-Norwood Building. The title is "The Evolution of Steel Bands and Steel Band Music."
Dr. Josh Armstrong, assistant band director and percussion instructor, will give a multimedia presentation and demonstration of the historical and cultural details of steel drums and the music associated music with them.
First Tuesday is sponsored by the College of Arts and Sciences and organized by the Department of Art and the First Tuesday Committee. Scheduled for the first Tuesday of each month during fall  and spring semesters from 12:10-1:00 p.m.  First Tuesday features lectures, readings and presentations representing diverse perspectives in the arts and humanities.
The First Tuesday Program is free and open to the public. For more information, call 662-846-4720.