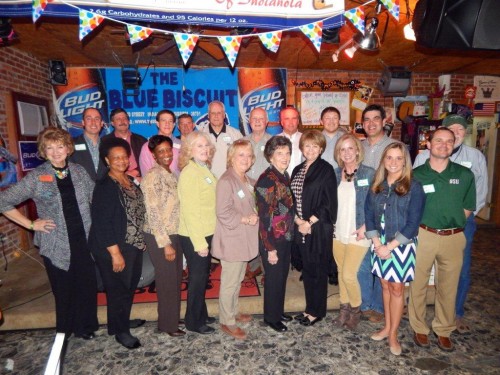 The Delta State University Alumni Association traveled to Indianola on March 20 for the Sunflower County Alumni Meeting. This year's gathering was held at the Blue Biscuit restaurant.
Jeffrey Farris, director of Alumni Affairs, gave the crowd an update from campus as well as Alumni activities. The Delta region Admission Recruiter, Diana McLemore, spoke to the group about the upcoming Go Green Weekend as well as the recruiting process.
Executive Director of Alumni-Foundation Keith Fulcher, Director of Donor Relations Ann Giger and Chair Emeritus of the Department of Physical Sciences Dr. Henry Outlaw, also spoke about their respective areas. Linda Davis '77, the past Sunflower County Chapter president, welcomed Andrew McDowell '07 as the new president.
To stay up to date on the Alumni Association's activities, follow these social media sites: Facebook (Statesmen Graduates), Twitter (@DSU_Alumni), Tumblr (www.dsualumni.tumblr.com), LinkedIn (DSU alumni), Instagram (dsualumni) and You Tube (dsualumni1). Save the dates for Pig Pickin' (September 27) and Homecoming (November 15).