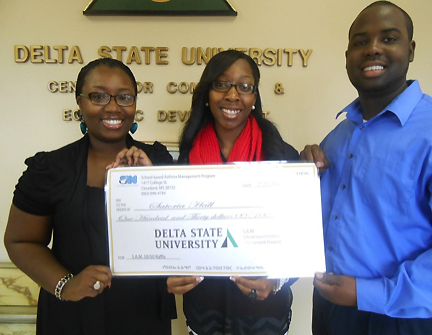 Delta State University's School-based Asthma Management Program (SAM) recently presented Satoria Hall, of Cleveland, with a check for winning the 50/50 Bear Bucks Raffle. Hall received 50 percent of the proceeds from the raffle.
The remaining 50 percent will support SAM projects such as Wheezy Bear Asthma Education appearances in the local schools; Wheezy Bear Asthma Camp — a five day summer day camp; and Asthma Academy held at the United Family Life Center in partnership with the Cleveland Park Commission Summer Program and Rescue Me Boot Camps for parents of students with asthma. All projects are interactive, fun and designed to provide information and knowledge to help children manage their asthma at home and school.
This year, the raffle was held in honor of Judith N. Winford, SAM's asthma resource nurse. Winford personally suffered from asthma, which fashioned an even greater passion and desire to help others manage and control asthma, especially children. Winford passed away on Dec. 22, 2013.
For more information about Delta State's School-based Asthma Management program, call (662)-846-4807 or (662)-846-4784.