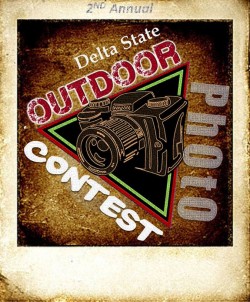 The Recreation Leadership Program of Delta State University's College of Education and Human Sciences will host the second annual Outdoor Photo Contest and Adventure Film Festival on March 26 at 6 p.m. in the Bologna Performing Arts Center Recital Auditorium.
Robby Stine, a junior recreation leadership major, along with Todd Davis, HPER director of Recreation Leadership under the Dave Heflin Professorship, will be directing and coordinating the free campus event.
The photo contest is actively accepting submissions until noon on March 24. Participants are eligible to submit up to five photos, with one photo per category. Categories include: outdoor recreation; outdoor wildlife; outdoor landscape; outdoor whimsical; and Mississippi outdoor.
Definitions for these categories are located on the official Facebook page https://www.facebook.com/pages/DSU-Outdoor-Photo-Film-Fest/747188491960537. This link also allows viewers to see submissions from others. All winners will be announced at the Adventure Film Festival intermission. Category winners will receive a commemorative plaque.
"Our outdoor world is viewed differently by everyone," said Davis. "Regardless of how a photo is taken, where a photo is taken, or who takes a photo, this contest hopes to appreciate all the different views of the outdoors through the eyes and lenses of people.
"Whether you are affiliated with Delta State or not, we want to see some great photos to highlight in the photo contest."
The film festival will showcase a number of short outdoor adventure documentary films that highlight the hardships and adventures the outdoors can offer.
To enter the contest, entries must be saved as a jpeg or jpg and named in the following fashion: category, last name, first name, photograph and title. Submissions must be emailed separately to dsu.outdoor.photo@gmail.com and photos must have been taken within the last year — January of 2012 to the present.
Voting for People's Choice Award will begin at noon on March 24 and end March 26 at noon.
For more information, contact Davis at 662-846-4570 or tdavis@deltastate.edu.