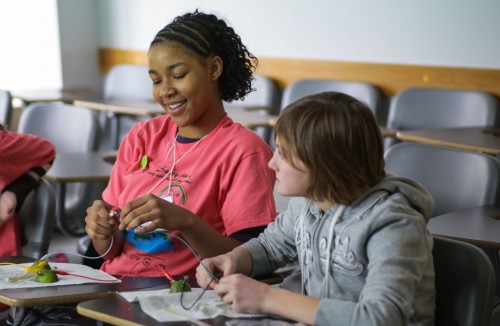 Delta State will host Tech Savvy, a conference sponsored by the American Association of University Women (AAUW), for young girls on March 1 from 8:30 a.m. to 4:30 p.m. Tech Savvy is a national pilot program designed for girls to experience firsthand how science, technology, engineering and math (STEM) fields can lead to exciting careers.
The workshop is geared toward girls in grades six to nine. A $5 fee includes breakfast, lunch and t-shirt for participants. Special sessions for parents and family will also be held for college and career path guidance. Girls and parents can register online or find printer-friendly registration forms at http://cleveland-ms.aauw.net/welcome/tech-savvy/. The deadline for registration is Feb. 13.
The Mississippi Tech Savvy conference is one of 10 pilot programs nationwide. The pilot program, which furthers AAUW's commitment to widening the pipeline for women in STEM, is funded in part by grants from the Praxair Foundation.
President of the Cleveland Branch of AAUW Dr. Glendscene Williams is coordinating the conference.
"First Lady Michelle Obama said we need all hands on deck to remove the hurdles for women and girls if we want to be more innovative and educated than the rest of the world, so Delta State University is putting all boots on the ground and bringing Tech Savvy to the Mississippi Delta. The question of where are the girls will no longer be," said Williams.
The structure and activities of Tech Savvy support and further the goals and best practices described in AAUW's highly acclaimed and influential research report "Why So Few? Women in Science, Technology, Engineering, and Mathematics."
"Tech Savvy is a crucial program to prepare and empower the next generation of girls to enter into these fields and increase our nation's science and technology talent pool," said AAUW Executive Director Linda D. Hallman, CAE. "Women benefit from highly stable, well-paying jobs, while the STEM industry gains diverse perspectives. It's win-win for the American economy."
To find out more information, register for the event or donate to the conference, please visit http://cleveland-ms.aauw.net/ or call 662-846-4233.