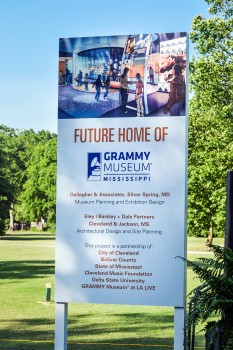 Delta State University's Department of Art, along with The Delta Music Institute, will present a First Tuesday program on Feb. 4 from 12:10-1:00 p.m. in Studio A at the DMI. The program will provide an update on GRAMMY Museum Mississippi.
Attendees are encouraged to bring a brown bag lunch and join Tricia Walker, DMI director; Allan Hammons, project consultant for GRAMMY Museum Mississippi; Lucy Janoush, president of Cleveland Music Foundation, Inc.; and Judson Thigpen, executive director of the Cleveland-Bolivar County Chamber of Commerce. The event will feature a PowerPoint presentation and Q&A about the exciting museum news, opening on the Delta State campus in the fall of 2015.
First Tuesday is sponsored by the College of Arts and Sciences, Art Department and the First Tuesday Committee. Scheduled for the first Tuesday of each month during fall and spring semesters from 12:10-1:00 p.m., the program features lectures, readings and presentations representing diverse perspectives in the arts and humanities. Events are free and open to the public. For more information, please call 662-846-4720.