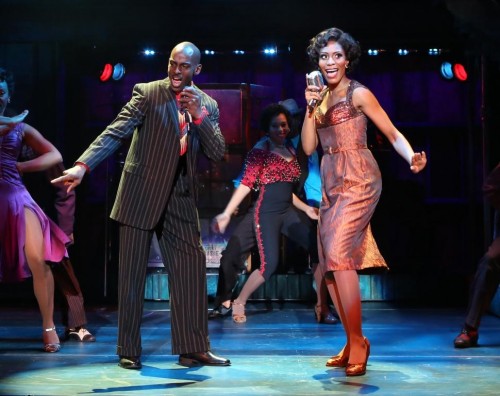 MEMPHIS the Musical will be presented at the Bologna Performing Arts Center on Nov. 24 at 7:00 p.m. MEMPHIS, a four time Tony award winner, is inspired by actual events in the 50s in Memphis, Tenn.
MEMPHIS is a soulful Broadway musical with fabulous songs and entertaining dance numbers. The show features a radio DJ who plays black music on a white radio station for the first time and a promising young club singer who is looking for her big break.  The two fall in love amidst the racial controversy of the era.
David Bryan, keyboardist and founding member of Bon Jovi, wrote the Tony award-winning original score for MEMPHIS, with Joe DiPietro (I Love You, You're Perfect, Now Change) crafting the Tony-winning book. MEMPHIS is directed by Tony nominee Christopher Ashley (Xanadu) and choreographed by Sergio Trujillo (Jersey Boys).
Prior to the show, award-winning Ubons BBQ of Yazoo City is catering a Memphis-style barbeque dinner at the Bologna Center. Plates are $15 each and include a pulled pork sandwich, Polk's sausage, 3 sides, dessert and a drink. Dinner tickets must be purchased in advance at the Bologna Center Ticket Office or by calling (662) 846-4626.
Get ready to experience Broadway's most exciting new destination—what the Associated Press calls "the very essence of what a Broadway musical should be"—at the Bologna Center in Cleveland this weekend. Call the Ticket Office (662) 846-4626 or go online www.bolognapac.com to reserve your seats today!
 Photo: Tony Award-winning MEMPHIS the Musical rocks into the Bologna Center this Sunday night in a performance not to be missed.