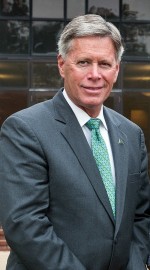 As a center for local involvement and outreach, the United Family Life Center in Cleveland hosts events year-round that are community oriented. Some of these events include sporting activities, youth programs, summer feeding platforms and theatrical events.
On Nov. 15 at 7 p.m., the UFLC will host a distinguished banquet in celebration of a few community members who have shown outstanding responsibility and leadership. Delta State University President William N. LaForge will be a guest speaker at the affair.
The event, appropriately themed "Working with the Power to Change Lives: Pitch In and Serve," will serve as a fundraiser for the center and awards will be presented for ministry, education, humanitarian, business, public service, health care and Angel Among Angels.
"I am looking forward to visiting with the United Family Life Center congregation to speak with them about exciting things that are going on at Delta State and how we can work together as community partners," LaForge said.
The banquet is an annual event for the UFLC, and it serves as both a way to recognize outstanding individuals and raise funds for the center's wide range of activities and programs.
The awards are given to those who have stood out in their field and who have proven themselves valuable in contributing to the community.
This year, the ministry award will be presented to Rev. Larry King, the educational award to Dr. Billy Moore, the humanitarian award to Ola Kirk, the business award to Sadie's Alterations, the health care award to Dr. Degail Hadley and the Angel Among Angels award to Mary Williams.
The event will be held at the center and admission includes a meal at the ceremony. A social hour will take place from 6-7 p.m. with the banquet immediately following. For more information, contact 662-843-3097.