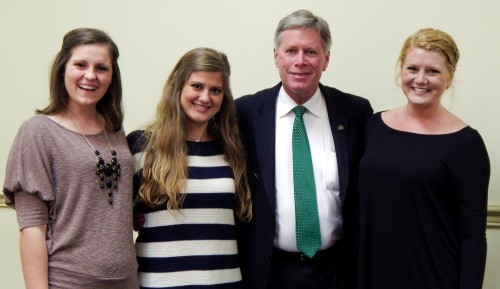 The Delta State University National Alumni Association recently traveled to Brookhaven, Miss., for the annual South Central MS Alumni Chapter Event, which was held at the State Bank's State Room. Over 50 people attended the event, including a number of prospective students.
"The South Central Alumni Chapter takes pride in inviting prospective students to their annual meeting," said Jeffrey Farris, director of Alumni Affairs. "This year was no exception, with numerous high school seniors and prospective transfer students in attendance to hear President LaForge speak to a room full of alumni and friends of the university."
The featured guest at this year's gathering was President William N. LaForge. Other guests from campus in attendance included Director of Recruiting Chris Gaines, Director of Career Services Davlon Miller, Chief Development Officer Gary Bouse, Executive Director of the Alumni-Foundation Keith Fulcher, and Director of Flight Operations Chip Cooper.
The event was presented by the Alumni Association's staff, Jeffrey Farris, director of Alumni Affairs, and Jordan Thomas, assistant director of Alumni Affairs. Chapter sponsors were State Bank, Guaranty Bank, Magnolia Electric and Nena Smith's School of Dance.
For more information on the Alumni Association, contact 662-846-4660 or visit www.deltastate.edu/alumni. Follow the Alumni Association on Facebook: Statesmen Graduates; Twitter: @DSU_Alumni; Tumblr: www.dsualumni.tumblr.com; LinkedIn: DSU alumni; and You Tube: dsualumni1.