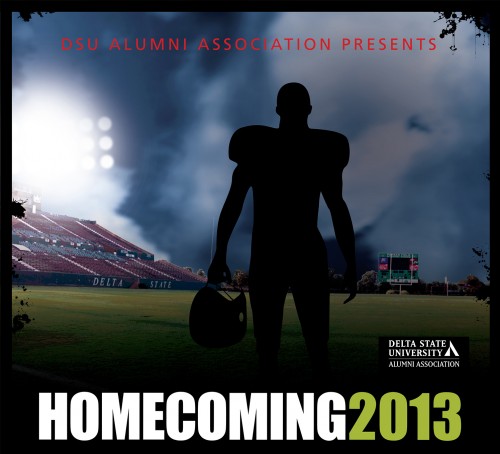 The Delta State University National Alumni Association recently released the 2013 Homecoming schedule. Homecoming weekend kicks off with the Alumni Awards and Gala Dinner at Walter Sillers Coliseum on Nov. 1.
A social for the class of 1963 and the Golden Circle will be held prior in the Leroy Morganti Atrium at Kent Wyatt Hall from 5-6:30 p.m., and a social for everyone will be held at 6 p.m. at Walter Sillers Coliseum. The Alumni Awards and Gala Dinner will begin at 7 p.m.
The Alumni Association will honor the Outstanding Alumnus of the Year, the Hall of Fame inductees and the Service Awards. The class of 1963 will be inducted into the Golden Circle and the Athletic Department will honor the Athletic Hall of Fame.
Saturday's activities begin with Homecoming registration from 8-11 a.m. at the Alumni House and the H.L. Nowell Student Union. The Delta Music Institute will host an open house from 9-11 a.m. The Athletic Alumni Executive Board Meeting will begin at 10 a.m. in the Dorgan Center Conference Room, followed by the general meeting at the Bob M. Dearing Hall of Fame Room at Chadwick-Dickson Field House.
The Veterans Exhibit opens with refreshments at 10 a.m. in Jobe Hall, followed by a ceremony for veterans in the atrium. The Wright Art Gallery will be open from 10 a.m. to 3 p.m. and Statesmen Park opens for tailgating at noon. Live entertainment will be provided at the park by Ol' Skool Revue, Delta RoX and the DSU All-Star Cheerleaders. Kickoff between Delta State and Valdosta State University is at 4 p.m. The Homecoming Queen and Court Presentation will be held at half time.
At 9 a.m. Sunday, a Homecoming brunch will be held for the Golden Circle and the class of 1963 at the Simmons Room in the Hugh Ellis Walker Alumni and Foundation House.
Special Reunions held at this year's Homecoming include the Class of 1963, the DSU Swimming and Diving Biannual Reunion, Alpha Kappa Alpha 35th Year Reunion, Alpha Phi Alpha 30th Reunion, Kappa Alpha Psi 25th Reunion and Delta Sigma Theta 40th Year Reunion.
To view the Homecoming Preview, visit www.deltastate.edu/alumni-and-foundation/alumni-association/alumni-calendar/. For more information, contact the Alumni Association at 662-846-4660. To stay up to date on the Alumni Association's activities, follow these social media sites: Facebook (Statesmen Graduates), Twitter (@DSU_Alumni), Tumblr (www.dsualumni.tumblr.com), LinkedIn (DSU alumni) and You Tube (dsualumni1).