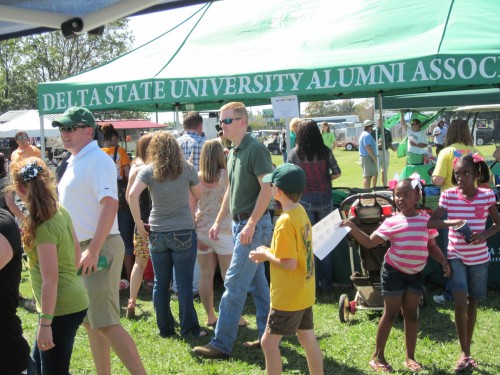 The Delta State Alumni Association will tailgate this Saturday before the football game between Delta State University (3-2) and Tarleton State University (5-0). The tent will be set up in Statesmen Park for any alumni and friends to drop by for a visit.
"If you're looking for a place to tailgate on Statesmen Park during football games, always know that the Alumni Association will have a presence and welcomes you to join your fellow alumni and friends," said Jeffrey Farris, director of alumni affairs.
According to Farris, it's important to have a welcoming tailgate tent hosted by the Alumni Association in case any alumni return to campus.  The Association will offer appetizers and beverages for any guests that come by the alumni tent.If you bring a prospective student by the tent (incoming freshmen or transfer students), you will receive a gift from the Alumni Association.
Kickoff is set for 6 p.m. The game also marks Delta State's eighth annual Cancer Awareness Classic "Pink Out" game in honor of Breast Cancer Awareness Month. Fans are encouraged to wear pink, and those who are predominately dressed in the color will get into the football game for free.