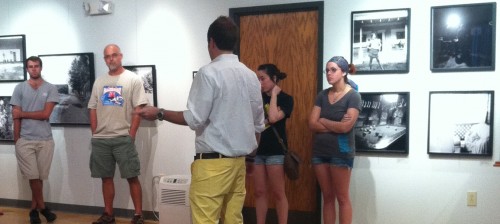 (photo: Easton Selby, the artist, speaking at the opening reception on 13 August.  He is directing a response to Dr. John Strait of Sam Houston State University.  Dr. Strait's research was the premise for the collaborative project, "Photographic Interpretations: The Geography & Culture of the MS Delta Blues," of which BluesLand is a part.)
The Delta State University Archives & Museum has been awarded a Mississippi Humanities Council (MHC) grant in the amount of $1,500 to support the exhibit and programming for BluesLand by Easton Selby, showing now through Nov. 8.
Selby will be on campus for his final presentation in association with his exhibit on Nov. 7 for the "First Tuesday" noon program hosted in the main gallery of the Capps Archives & Museum building. The event is free and open to the public.
Delta State Archivist Emily Jones said, "Their support for our exhibits, oral history programs and outreach programming is so encouraging. This is the ninth proposal I have submitted in my 10 years as the archivist at Delta State. I am thrilled to continue to work with the staff of MHC."
This program is financially assisted by the National Endowment for the Humanities through the Mississippi Humanities Council. For more information on Easton Selby and the parent show "Photographic Interpretations: The Culture & Geography of the Delta Blues" please visit: http://www.talboteastonselby.com/ and http://eric.ed.gov/?id=EJ973216.