Delta State University Aviation Students Visit Air Traffic Control in Memphis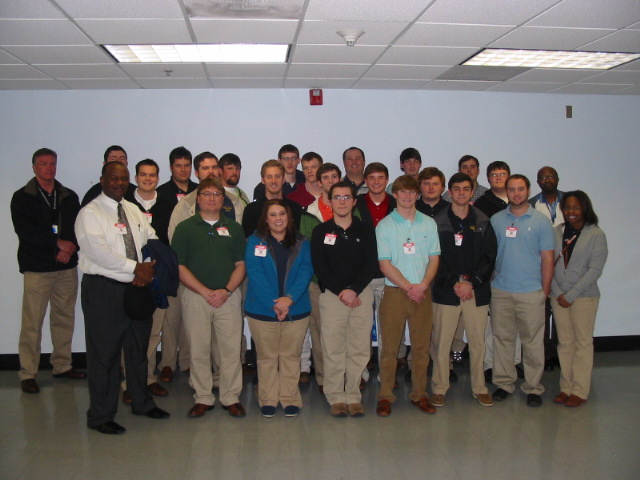 Delta State University aviation students recently had the opportunity to see their classroom lessons applied in real life as they spent an entire day in Memphis, Tennessee at the Air Route Traffic Control Center and Memphis Tower co-located at Memphis International Airport. The trip was coordinated by Alpha Eta Rho, an international professional aviation fraternity.
Accompanied by faculty members Brett Oleis and Sam Washington, and a parent, twenty-one students comprised of both aviation management and flight operations majors were led on a tour through the facilities by FAA Air Traffic Organization Training Specialist Herbert Tyson. During the tour, the students were able to see firsthand the air traffic control side of aviation and gain a better understanding of why certain regulations and procedures flown by in aviation are in place. They were able to go into the control room and observe how traffic flows are monitored and coordinated both in the air and on the ground. They observed simulations of flight landing, departure coordination, and air traffic controller training. Real life flight circumstances were replicated and several demonstrations were given for the students to have an opportunity to see what life in aviation is actually like.
"This was more than a field trip for fun. It helped the students understand the overall flight environment and gave them an opportunity to bond outside the classroom," commented Oleis. Flight operations senior Christopher Medeiros reflected, "The controllers were very helpful in answering any of the questions we had, which I think was the most important part: the answers to some questions that our flight instructors sometimes just can't answer. Pilots and student pilots communicate to Air Traffic Control on a daily basis; but being in the cold, dark, un-lit rooms where they work only helped us realize just how important they are in keeping our skies safe."