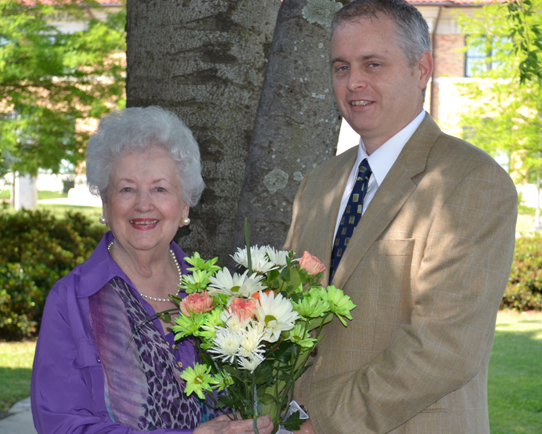 Delta State University's College of Arts and Sciences is proud to announce the John S. and Jutta Karnstedt Ferretti Fellowship. This new fellowship is designated for an outstanding student in the Master of Arts in Liberal Studies (MA-LS) program.

The new MA-LS degree program is the only one of its kind in Mississippi, and one of the few in the South. The program targets non-traditional students and is designed to develop interdisciplinary expertise in gender and diversity, globalization, literature, the Mississippi Delta, philosophy, and religious studies.
The fellowship is made possible by a $10,000 gift from Jutta Karnstedt Ferretti, of Shelby, in honor of her late husband John. Karnstedt Ferretti graduated Magna Cum Laude with a Bachelor of Science in Interdisciplinary Studies degree on December 11, 2010, becoming the oldest graduate in the history of Delta State University at the age of 86.

Expressing a life-long love for learning, Karnstedt Ferretti has given generously to Delta State for a variety of scholarships and was honored in March 2011 with the dedication of the Jutta Karnstedt Ferretti Special Collections Room in the Roberts-LaForge Library on the campus.
"Education has always been very important to me and my late husband, John. Learning in all fields affects the present and future as there is still so much to be discovered that we are not aware of today," said Karnstedt Ferretti. "Education also opens many doors to the students which impact lives locally, state-wide, nationally, and internationally. You cannot help people in this life without being helped yourself. We have so many beautiful letters from our scholarships winners that have touched us…. deeply. We feel that we have extended family members now, with all of these wonderful young men and women who have studied on the various scholarships."
"The MA-LS program targets students returning to academe for personal growth and professional advancement, recent undergraduates seeking interdisciplinary knowledge and further academic preparation prior to a professional degree or doctorate, and professionals already in the workforce, such as teachers, seeking a broader and deeper knowledge base applicable to their fields," said Dr. Mark Bonta, Associate Professor of Geography and Chair of the MA-LS Committee. "This fellowship will assist in attracting quality applicants to the program and we are extremely thankful to Mrs. Karnstedt Ferretti for her thoughtful generosity."
In addition to the five endowed scholarships and one endowed fellowship at Delta State University, Karnstedt Ferretti and her late husband have five scholarships at Mississippi State University and two scholarships at Saint Louis University.
For more information about the Master of Arts in Liberal Studies and the John S. and Jutta Karnstedt Ferretti Fellowship, contact the Delta State University College of Arts and Sciences at 662-846-4100 or visit http://www.deltastate.edu/mals.