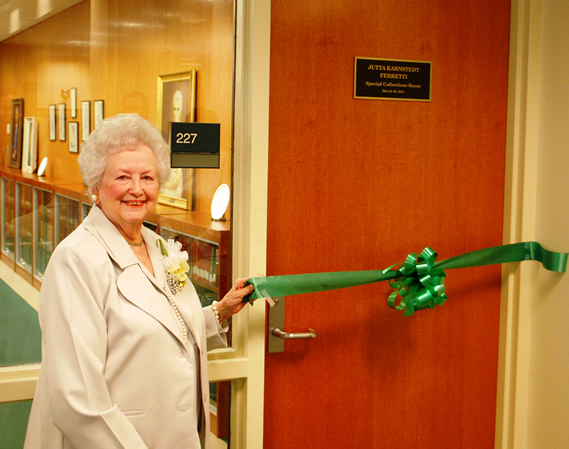 In recognition of her dedication, generosity, and love for learning, Delta State University honored Jutta Karnstedt Ferretti of Shelby, with the dedication of the Jutta Karnstedt Ferretti Special Collections Room. The dedication ceremony was held Wednesday, March 30, in the Roberts-LaForge Library on the campus.
University faculty, staff, and students along with friends and family gathered for the event. Delta State University President Dr. John Hilpert welcomed those in attendance and thanked Ferretti for her dedication and generosity to the university. "The generosity of Ferretti and her late husband, John Ferretti, provided funding for scholarships enabling many students to attend Delta State University and other institutions, and realize their academic dreams," said Hilpert.
Hilpert also noted that Ferretti is Delta State University's oldest graduating student. She earned a Bachelor of Science in Interdisciplinary Studies degree on December 11, 2010, graduating Magna Cum Laude. "Jutta is an inspiration and role model for us all and is proof that lifelong learning is worthwhile," said Hilpert.
Provost and Vice President of Academic Affairs Dr. Ann Lotven presented Ferretti with a plaque in honor of the dedication.
In acceptance, Ferretti noted her love for books. "I'm an avid reader, as were my mother and father, and I grew up in a home where I was surrounded by books," said Ferretti. "I love spending time here in the library and also visiting with my professors. I love being in their offices surrounded by bookshelves loaded with books. I find great comfort in that."
The Jutta Karnstedt Ferretti Special Collections Room is used by the campus for meetings and events throughout the year. In addition, it houses the library's collection of rare books pertaining to Mississippi history along with other unique publications.
"Jutta is an extraordinary person and has touched countless lives," said Dean of Library Services Jeff Slagell. "This dedication simply provides another reminder of her rich legacy."