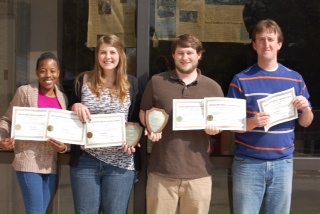 Delta State University journalism students won two first places – and six other major state awards at the Mississippi State Press Association 13th annual O.C. McDavid Journalism conference competition held Thursday, March 24, in Jackson. The awards surpassed entries from major competitors in the four year university category, Mississippi State, University of Southern Mississippi, and Millsaps.
Delta Statement Editor-in-Chief Justin Quinn won the news story competition for his spring 2010 coverage of Delta State budget issues. The professional journalists judging the competition cited Quinn's story "Faculty Questions Remain" for its "excellent coverage of a very contentious meeting….well written, very comprehensive, with loads of important quotes. Impressive journalism about a sensitive subject…." The Statement was also cited for its excellent editorials.
Other major writing awards were a second place win by Statement Features Editor Kiera Story for her story "The Bean Counter"; and third place win for sports news story by Sports Editor Ben Kossman for "Deed's Three TD Performance Helps Statesmen Over Reddies."
Major design awards went to Layout Editor Rachel Bush, including a first place in advertising design for her ad "Class Photos." The judges commented that the ad was "great use of white space in association with artwork…clear ad theme… message well done and effective."
Bush won three other awards for design, including a third place for front page design, second place for an ad featuring the Delta State Alumni Association, and third place for an ad featuring the Blue Levee Restaurant.