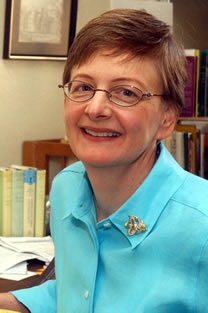 Dr. Susan Allen Ford, Professor of English and Writing Center Coordinator at Delta State University, will deliver the keynote address at Delta State University's 2010 Fall Commencement on Saturday, Dec. 11, at 10 a.m., inside Walter Sillers Coliseum on campus.
Continuing with University tradition, the winner of the S.E. Kossman Outstanding Faculty Award delivers the Fall Commencement keynote address. The 28th overall recipient of the honor this past May, Ford will celebrate commencement by addressing the questions "So What? What Next?"
Ford earned a bachelor's degree from Kenyon College, Gambier, Ohio, and the M.A. and Ph.D. in English from the University of Michigan. She and her husband, John R. Ford, also on the faculty of the Division of Languages and Literature, began teaching at Delta State in 1983.
At Delta State Ford teaches courses at both the undergraduate and graduate levels, particularly in composition and British literature, and works with writers in Delta State's Writing Center.
Since 2006, Ford has served as editor of the journals of the Jane Austen Society of North America, Persuasions and Persuasions On-Line. She also represents Delta State on the Board of the University Press of Mississippi.
In addition to the Kossman Award, Ford last year received the Woman of Achievement Award from the Mississippi division of the American Association of University Women. She was awarded visiting fellowships at Chawton House Library (England) in 2009 and 2010, and the DSU Foundation's Faculty Prize for Excellence in Research in 2005. Four times between 2001 and 2003, she was recognized by the Jane Austen Society of North America as mentor of winners in their student essay contest. She is a member of Phi Beta Kappa.
The author of many articles on Jane Austen and her contemporaries, the Gothic, detective fiction, and Shakespeare, Ford is currently at work on a book about Austen.
Delta State is expected to graduate an estimated 375 students during its Fall Commencement. Each graduate will receive eight tickets for family and friends. Tickets are required for entry.

For information on Delta State's fall commencement, please contact the Office of Communications and Marketing at (662) 846-4675.