Geography workshop to focus on the Delta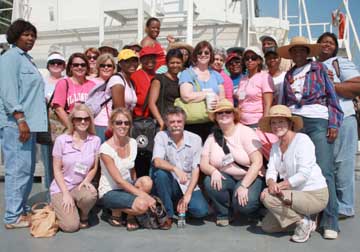 Participants in the 2008 3R's of the Mississippi Delta: Roads, Rivers and Railways workshop at Jantran (barge company) in Rosedale, on the Mississippi River
The Delta State University Delta Center for Culture and Learning will offer a two week workshop for K-12 teachers across the State entitled "The Three R's of the Mississippi Delta: Roads, Rivers and Railways," May 26 through June 5.
Participants will learn about the physical and cultural geography of the Delta. They will take a short ride on the Illinois Central Railroad, board a working towboat on the Mississippi River, and travel Highway 61 to Memphis.
Drs. Mark Bonta and Luther Brown will facilitate the workshop, and guest lecturers, Levee Boards, agricultural research centers, local farmers, Blues performers, and museums will present additional learning opportunities.
The workshop will accommodate 40 teachers who will come from private and public schools throughout Mississippi. Participants can also receive six graduate credit hours.
This is the third time that this workshop has been offered with support from the Mississippi Geographic Alliance, with additional support from the Yazoo-Mississippi Delta Levee Board.
Participants will receive a stipend of $58 per day and will need to stay in Cleveland, or very nearby, due to the length of daily activities.
For application information, contact the DSU Delta Center for Culture and Learning at (662) 846-4311.