Delta State awards Second Diploma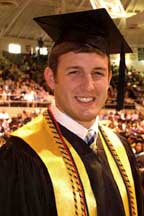 Matthew Brett Hyatt, a Delta State University graduating senior with a Bachelor of Science degree in Biology, from Soso, was awarded the Second Diploma during Delta State University's 83rd Fall Commencement ceremony held Saturday, Dec. 13, inside Walter Sillers Coliseum on campus.
The Second Diploma is presented to the two-year graduating senior with the highest grade point average on a minimum of 62 hours of academic credit at Delta State University. This policy permits a transfer student with at least two years at Delta State to compete for this honor.