Delta State to welcome distinguished Southern historian to campus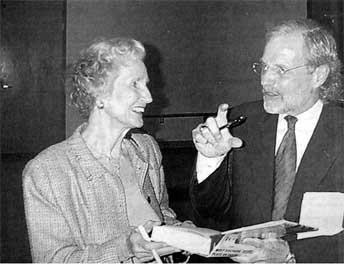 Dr. James C. Cobb autographs a copy of his award-winning The Most Southern Place on Earth: The Mississippi Delta and the Roots of Regional Identity for Keith Dockery McLean during his last visit to DSU in 2000. [photo: DDT]
Delta State University, through the joint efforts of its History Department and the Delta Center for Culture and Learning, will host a public address by noted historian, Dr. James C. Cobb, Thursday, Nov. 8 at 7 p.m. inside Jobe Hall on campus.
Currently, the B. Phinzy Spalding Distinguished Professor in the History of the American South at the University of Georgia, Cobb is the author of multiple works addressing the complex issue of identity and the American South, including: "Redefining Southern Culture: Mind and Identity in the Modern South (1999)," "The Mississippi Delta and the World: The Memoirs of David L. Cohn (1995)," and "The Selling of the South: The Southern Crusade for Industrial Development, 1936 – 1980 (1982)."
In 2006, he was named Author of the Year in History by the Georgia Writer's Association for his book, "The Brown Decision, Jim Crow and the Southern Identity."
Locally, Cobb is best known for his award-winning "The Most Southern Place on Earth: The Mississippi Delta and the Roots of Regional Identity (1992)."
As comfortable and informative in front of a live audience as he is before a word processor, Cobb is a member of the American Historical Association's Distinguished Lectureship Program. In 2005 he gave an address entitled "Bubbas and 'Bamas, Rednecks and Rappers: The New Faces of Southern Identity"
at the University of North Carolina's Center for the Study of the American South, and in 2006 keynoted the annual meeting of the Mississippi Historical Association.
He last spoke at Delta State in 2000, when he gave the History Department's annual Cranford Lecture.
A recognized event of Delta State's on-going celebration, "The Year of Delta Heritage," Cobb's lecture is free and open to the public.
A reception will follow his address.
For more information, please call the Delta Center for Culture and Learning at (662) 846-4311.