Tree Campus USA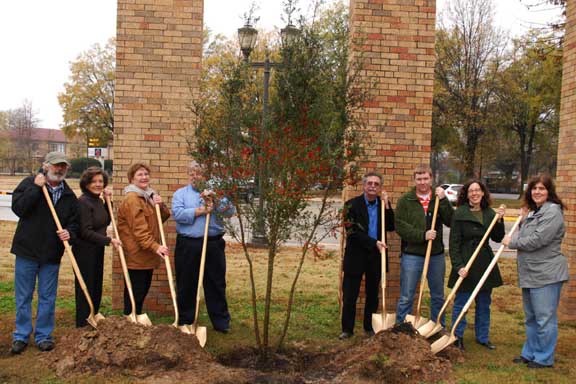 The Delta State University Tree Campus Committee members (from left) Dr. Eric Blackwell, associate professor of biology; Lee Aylward, of The Delta Center of Culture and Learning; Linda Smith, director of Facilities Management; Ted Hochradel, assistant director of Facilities Management; Luther Brown, director of The Delta Center for Culture and Learning; Bobby Horne, Delta State Environmental Science major of Cleveland; Dr. Ellen Green, associate professor of biology; and Dr. Nina Baghai-Riding, professor of biology and environmental science, hold a ceremonial planting of a yaupon holly at the south end of Hugh White Hall on the campus. Committee members not pictured include Dorothy Shawhan, Dr. Mark Bonta, Dr. Alan Barton, and Mark Ponder.
The tree planting also served as Delta State's Arbor Day planting and show support of the arboriculture best practice of "fall is the time for planting."
Delta State University achieved Tree Campus USA status in 2010, from the National Arbor Day Foundation, and as a part of keeping this designation, a tree is planted each year.