Custodial Services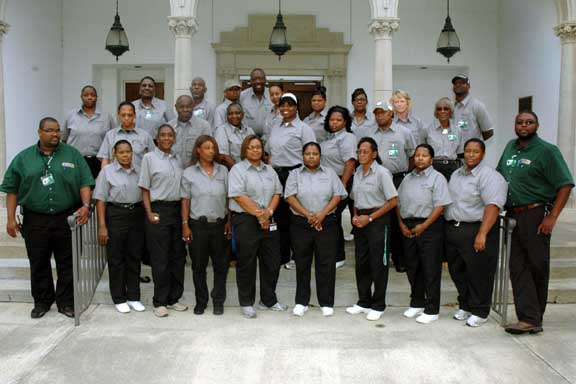 Row 1: John Jackson, supervisor, Juanita Hooper, Celeste Gee, Patricia Jones, Rosetta Scott, Barbara Fair, Lucretia Jefferson, Debra Jurnett, Helen Miller, Craig Clemens, manager
Row 2: Dominique Taylor, Fred Thomas, Sharon Smith, Moorlin Evans, Kotishma Hunter, Johnny Grose, Edna Jefferson
Row 3: Melissa Marshall, Pearlie Campbell, Cleophus Daniels, Jr., Tony Smith, Sammy Wilson, Polly Cameron, Emma Nix, Lorine Hall, Margaret Harper, Marcus Turner
Facilities Management Custodial Services are one of the essential services that contribute to the overall image of the campus. Today, the efficient care of a university campus requires increasing specialization in services and activities.
The student working environment needs to be well maintained which will assist in the recruiting efforts. Our goal is to provide a safe, pleasant, and functional environment for students, staff, and visitors.
We would like to also take this opportunity to ask each of you to provide feedback whether it is positive or negative. Hopefully, we can hear a lot of positive things about what we are trying to accomplish as well as the negative. At the same time we will try and take the negative and turn them into a positive for the next time.
Office hours are from 4 a.m. to1 p.m., Monday –Friday. If there are any questions or comments, please feel free to call Facilities Management ext.4740.
The main objective of this department is to keep the facilities clean and presentable for the faculty and students while making their teaching/learning environment comfortable.
Another division of Custodial Services is Event Management. This part of our service consists of setting up for all campus functions as well as the moving of all office furniture. We have not been involved in this part very long but we have indeed taken this responsibility with great enthusiasm. Please feel free to call for your campus needs.