Key Requests
1. All Key Request Forms must be signed by the Dean or Vice President and Building Manager and accompanied by a Work Order on SchoolDude to be valid. Invalid forms will be returned to the originating department.
2. Requests for lost or stolen keys must be made with a Key Request Form and accompanied by a Work Order. If the lost or stolen key was a master, please contact the Department of Facilities Management immediately. Your department may be responsible for funding the re-key of the affected area or facility.
3. Unwanted or obsolete keys, or keys from transferring or terminating employees must be returned to Facilities Management. This will end your department's responsibility for them.
4. Duplicating or replacing keys through an outside agency, company, or private business other than Delta State is prohibited unless authorized by Facilities Management. Violations will be reported to the appropriate authorities. The duplication or possession of any unauthorized university key is considered a violation of university policy and subject to disciplinary action.
Key Request Form
This form is intended for printing purposes only. It cannot be submitted by email as an original signature for the Dean or Vice President and Building Manager is required. In accordance with the published Key Policy, a Work Order must be on-file for each department. This form will allow us to compare the signatures of authorized department representatives with those appearing on the Key Request Form as a means of security for our customers. Keys will be made only for the authorized individuals as designated by the building manager. An individual will only be issued one key per door. Click on the link below for a printable key request form.
PURPOSE
The Facilities Management Department at Delta State University provides key control for university faculty, staff and students.
GENERAL PROVISIONS
All keys are issued by the Delta State University Facilities Management Key Shop and shall remain the property of Delta State University.
Any exemptions, changes, or special provisions to this policy will be made only with the approval of the Director of Facilities Management. Each building will have a separate building master key with as many sub-masters as necessary to accommodate the different departments within. All mechanical/equipment and custodial rooms will be keyed separately from the building master. It is a violation of this policy to attempt or to have any university keys duplicated by anyone other than the Facilities Key Shop. University Police have the authority to confiscate any duplicated key(s). Any person in violation of this policy may have their key issuance privileges revoked. It is a violation of this policy to tamper with, change, add to, or alter any university installed locking system by anyone other than the Facilities Key Shop; this includes the installation of any locking devices or hardware. Unauthorized devices and hardware will be removed by Facilities Management and the department or individual responsible for the room will be charged for all costs incurred.
NON MASTER KEYED LOCKS
Under special circumstances individual rooms may be keyed separate from a building master key system when requested by the Dean or Vice President and approved by the Director of Facilities Management. No services will be provided to the room or areas. This will include maintenance, custodial, and other such services. In the event that emergency personnel need to enter the room, the department responsible for said room will be charged for any and all damage that may occur when entry is made. Under special circumstances, individual rooms may be keyed off the university grand master when approved by the Director of Facilities Management.
KEY REQUESTS AND ISSUANCE
Faculty and staff may be issued keys to a university building upon the
recommendation of a dean, building manager, or vice president via a key request form submitted to Facilities Management. No level of master key may be issued to students or graduate assistants, only full-time faculty/staff.  A work order must be submitted on SchoolDude to track time and material charges.
The key request form must be filled out in its entirety and then signed by the building manager, dean or vice president.  Keys may only be issued from the original key request form with signatures.  No email or fax copies will be accepted.  An individual will only be issued one key per door. All incomplete, illegible, incorrect, or unsigned forms will be returned to the requesting department. Departments are encouraged to type all key requests for legibility.
When a work order is received, keys are cut. When the key(s) are ready, the individual to be issued the key will be notified that their keys are ready for pick up. In order to receive keys, the faculty/staff must bring their DSU Okra ID card with 900#  when they pick up the key(s) from Facilities Management key shop at 1417 Maple Street. Records of all keys issued will be kept in a key tracking log and will be maintained by Facilities Management Key Shop, except Residence Life who maintain their own tracking system.
LOST KEYS
The loss or theft of any key must be reported immediately to the key holder's supervisor, Facilities Management and the University Police Department. Replacement of lost, misplaced or stolen keys will be made in accordance with procedures for original issue. Individuals or departments will be assessed replacement charges for lost keys at the discretion of the director of Facilities Management. The director of Facilities Management will determine re-keying of locks or space at the individual's or departments expense. Repinned key cylinder (lost/stolen/damaged) requests will be accessed a charge of $15 plus labor to install.  Key(s) found hanging in a dooor or out on a desktop will be confiscated, returned to the key shop, and must be reissued.
TRANSFER OF KEYS
The transfer of keys between employees or between departments is not permitted. Keys must be returned to Facilities Management Key Shop for re-issue.
LOANING OF KEYS
Keys are university property and must be used only for the purpose of conducting university business. Keys should not be loaned to others at any time.
WORN KEYS
Individuals holding properly authorized keys may exchange damaged or worn keys at the Facilities Management Key Shop ,  during normal working hours Monday-Friday 7:30 a.m.-4:30 p.m. If a key is broken in the lock, please notify Facilities Management immediately for broken key extraction. Key may be replaced free of charge if broken from normal wear.
RETURN OF KEYS
It is the responsibility of the key holder and the supervisor, dean or vice president and building manager who authorized issuance of the key(s) to assure that all keys are returned to Key Shop upon the key holder's:
1. Transfer to another department;
2. Termination of employment, or;
3. Change of assignment that makes it unnecessary for the key holder to have the assigned keys.
All keys must be accounted for and returned
Deans or building managers will be notified of missing keys or other key discrepanciesupon return of keys to the Facilities Management Key Shop. The director of Facilities Management will determine when re-keying of locks or space is required when keys are not returned or keys are missing.
CONTRACTOR ACCESS
Keys that are needed by contractors or other non-university users must be authorized by the Facilities Management Director. A Facilities Management Key Request Form must be filled out by the project manager and signed by key recipient for issuance. The project manager will be responsible for making sure that all keys are returned at the end of the project.
KEY INVENTORY AUDIT
All departments will cooperate with Facilities Management in periodic key audits of their departments. Departments will be notified in advance when their key audit will be conducted. Each key inventory audit will be distributed to appropriate university Vice Presidents for review.
LOCK OUT PROCEDURE
University Police will provide after-hour emergency access for faculty and staff members who need immediate entry to their assigned workspaces. Access will be limited to university assigned offices and scheduled classrooms and shall not include laboratories, athletic areas, libraries, Facilities Management shops and holding areas, residences, apartments or any other building or areas owned and controlled by Delta State University. Faculty and staff should first contact their building manager, and dean or vice president during normal work hours.
After hours calls should be directed to the University's Police Department at 846-4155.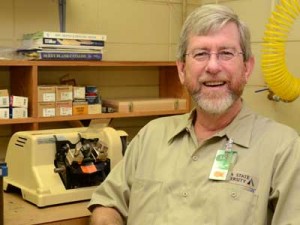 Don Smith, Certified Institutional Locksmith, maintains and operates the Delta State University Lock & Key Shop
The Lock & Key Shop installs and repairs locks, cuts keys and keeps up records as well as maintaining the master key system. Our goal is to provide access while maintaining your security.